Admission Requirements to Study Paramedical Courses
Admission Requirements to Study Paramedical Courses is a very vital knowledge to grasp presently. You will very much need to know all the admission requirements in order to study Paramedical courses.
Do not bother much, as we will be looking into the Admission Requirements to Study Paramedical Courses.
Key Takeaways
When a patient need assistance, you will frequently be one of the first people to arrive on the scene as a paramedic.

It's a high-pressure and important job, and in order to save people's lives, you'll need to take care of the situation as soon as possible.
---
Read First: Complete List of Top Best Paramedical Courses (Eligibility, Careers, Salary)
---
Who is a Paramedic?
The human body is home to a wide variety of ailments, and paramedics are trained medical experts who are able to identify these disorders and lend their support to doctors by doing medical examinations and other forms of therapy to guarantee that patients receive the best possible care.
They are an essential component of the healthcare industry and are tasked with the responsibility of giving the patient with initial care in the event of an emergency.
EMS Professionals, which is another name for paramedics, are those who work in emergency medical services.
Let's take a look at some of the most reputable paramedical programs, the admissions procedure for paramedical programs, and the qualifying requirements, as well as the work opportunities and career possibilities.
---
Most Popular Article: 15 Highest Paying 2 Year Degree Jobs In the World
---
What is Paramedic Science?
The field of study known as "paramedic science" focuses on emergency treatment and the various ways people might assist others at the scene of an accident.
The first people to arrive at the scene of an accident that has resulted in injuries or discomfort are the paramedics.
They provide treatment to patients at the scene of the incident or act as transport to a medical support center.
Typically, they work in teams of two.
Students who major in paramedic science develop the capacity to think fast, react to events in an informed manner, and provide immediate assistance as a result of their education.
The principles of paramedic practice, the operation of paramedic equipment, how to treat, diagnose, and provide healthcare are some of the topics that can be covered in paramedic science courses.
---
See also: The Top 4 Online Jobs That Can Help You Drive Your Career Further
---
Types of Paramedical Courses
There are three types of paramedical courses:
Degree Paramedical Courses -The amount of time spent studying for a degree in paramedicine might range anywhere from 1.5years to 4 years.
Diploma Paramedical Courses– Courses leading to a diploma in paramedicine might take anywhere from one to two years to complete.
Certificate Paramedical Courses– Courses leading to a certificate in paramedical assisting might take anywhere from one to two years to complete.
Paramedic entry requirements
The minimum UCAS points required to study a paramedic science degree ranges from 64 points (CC at A-Level; MPP-MM at BTEC level) to 128 points (ABB at A-Level; DDM at BTEC level).
You'll need at least two A-Levels to get into most universities, with at least one of those A-Levels having to be in a science-related subject.
In some cases, subjects that require critical thinking or comprehensive study may not be accepted.
With a BTEC qualification, most schools that teach paramedic science will let you enroll in their programs.
If you want to get into the best universities, you'll need a D*DD, but if you go elsewhere, you might get in with as little as an MPP-MM.
You will need to have a minimum of five GCSE grades, with at least one grade higher than a C.
Additionally, the majority of universities require that you have English, mathematics, and science under your belt.
Be aware that the entry requirements for the paramedic program will vary from university to university, depending on the degree that is being offered.
Before you submit your application, you should make sure to review this thoroughly.
If the overall number of UCAS points you have doesn't meet the minimum criterion for admittance, one option you have is to pursue a degree in paramedic science that includes a foundation year as part of the curriculum.
Students who lack the prerequisite qualifications for degree-level study in their preferred field can benefit from the preparation provided by foundation years.
After you have finished the foundation year of the degree program, you will move on to the first year of the degree itself.
You do not need to have completed your A-Levels in order to meet the entry requirements for a degree in paramedic science that has an integrated basis.
You will need to have earned a grade of C or above in both English and maths on the General Certificate of Secondary Education exam.
However, more money is required for programs that include foundation years.
Foundation courses you may wish to consider include:
Paramedic Science with Foundation Year BSc (Hons)
Paramedic Science with Foundation Year BSc (Hons)
---
Incase you missed it: How to Study Abroad for Free (Secret Blueprint No one will tell you)
---
Admission Requirements to Study Paramedical Courses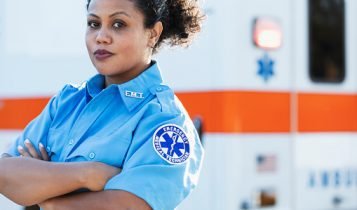 Before you can work as a paramedic, you will first need to have a degree that is recognized in the field of paramedic science or have a degree earned through an apprenticeship program.
After that, you will need to submit an application to work as a qualified paramedic for an ambulance service and register with the Health and Care Professions Council (HCPC).
Courses in paramedic science typically last anywhere from three to four years when completed full-time.
These years are split between theoretical study and hands-on training, including rotations around ambulance services.
Entry requirements for an undergraduate course are typically:  
two or three A levels, including a science, along with five GCSEs (grades 9-4/A-C), including English language, Maths and science
or equivalent qualifications:
a BTEC, HND or HNC, including science
a relevant NVQ
a science- or health-based access course
equivalent Scottish or Irish qualifications.
Every university sets its own entry requirements, so it's important to check with them directly.
If you're applying to be a paramedic, you'll be asked to show how you think the values of the NHS Constitution apply in your everyday work. The same will be true if you are applying for a paramedic degree.
Degree apprenticeship/student paramedic
Some ambulance trusts provide employees with the opportunity to continue their education while they are on the job; however, each trust determines its own standards for eligibility. In most cases, they will ask for:
at least five GCSEs, grade 4/C or above, including English, maths and science or
equivalent academic qualification with a high level of health or science content.
Employers want to see evidence that applicants are physically fit and have at least two years of driving experience.
The hiring process often consists of multiple steps, each of which may include interviews, examinations, physical fitness evaluations, or driving assignments.
Because both your company and the government will be responsible for paying any necessary fees, apprenticeships do not qualify for student grants; nonetheless, you will be compensated monetarily.
Driving license
You will need to have a full, manual driving license in order to apply to work for an ambulance service trust either as a student paramedic or once you have completed all of your training and become fully qualified.
If you took and passed your driver's license exam after the year 1996, you may need to take and pass an additional driving qualification test in order to operate larger vehicles and transport passengers.
Check to see the vehicle classes you need on your license because different ambulance service trusts utilize different sizes of vehicles.
Must-have skills
It is important to keep in mind that academic accomplishments are not the only thing that matters.
Because you will be thrust into situations that are unexpected or unforeseen as a paramedic, you will need to be able to maintain your composure and provide reassurance even while under pressure, in addition to having excellent communication skills.
You'll also need to have the ability to work quickly and make decisions that are both rapid and accurate.
Training and career development 
After obtaining your certification, your career options as a paramedic include becoming a team leader and directing other paramedics and emergency care aides, specializing in a particular field such as strokes, or working for an air ambulance service.
You might advance your career as a paramedic and take on a more responsible and senior role with additional training to become an experienced paramedic.
There are other opportunities available in the areas of teaching, research, and management.
---
what our readers love: How To Rekindle Your Relationship: 8 Ways.
---
Qualification for Paramedical Courses
Undergraduates who are interested in making a career in the paramedical field must achieve the relevant qualification criteria in order to be eligible for the field.
The following is a list of the requirements that must be met in order to enroll in the paramedical programs:
To be eligible for undergraduate and diploma programs in the field of paramedicine, you need to have completed and passed the twelve grade in the scientific stream with biology from any recognized board with a minimum of fifty percent of the possible points.
There is no predetermined minimum percentage requirement for the diploma courses because the criteria for the percentage are different at each university. Only a select few universities even bother to acknowledge confirmation in the interest of the percentage obtained in board exams.
The majority of schools and universities either administer their own entrance exams or base their admissions decisions on the marks students get on examinations administered at the national or state level.
---
Relevant Insight: Affordable Colleges & Universities in the United States for International Students.
---
Quick Recap on Admission Requirements to Study Paramedical Courses
In addition to India, the United States of America, the United Arab Emirates, the United Kingdom, and Canada, there are several prospects for paramedical professionals in other countries as well.
Their job is to aid doctors in making accurate diagnoses and prescribing effective treatments for patients.
Because experience is so valuable in the field of paramedicine, it's critical to have both the abilities and the experience necessary to succeed as a paramedic.
Paramedics can find employment at nursing homes, hospitals, clinics, and health departments, as well as colleges and universities and as lecturers after completing a basic course in one of the paramedical streams.
Their own medical clinics and laboratories are also a possibility for them. As a result, paramedics have a wide range of career opportunities.
---
See what others are Reading: