Resumption News from Delsu SUG Director of information.
The Student Union Government welcome our many students in the three campuses of the university to the second semester of the 2019/2020 Academic Session.
We are most glad to have you all back on campus and it is our desire that this will be your best semester yet.
The students of Centre for Continuing Education New Diploma Programme, should by this broadcast, be inform that their first semester examination has been postponed due to the National Jamb Examination.
The New Diploma exam will now begin on Thursday, March 19th, 2020.
This is to inform the University Community, particularly Diploma in Law students, that the Vice-Chancellor, Prof Andy Egwunyenga has graciously approved the commencement of a special Summer Semester for Diploma Programme, in the Faculty of Law.
The calendar for this special Summer Semester is attached to this broadcast.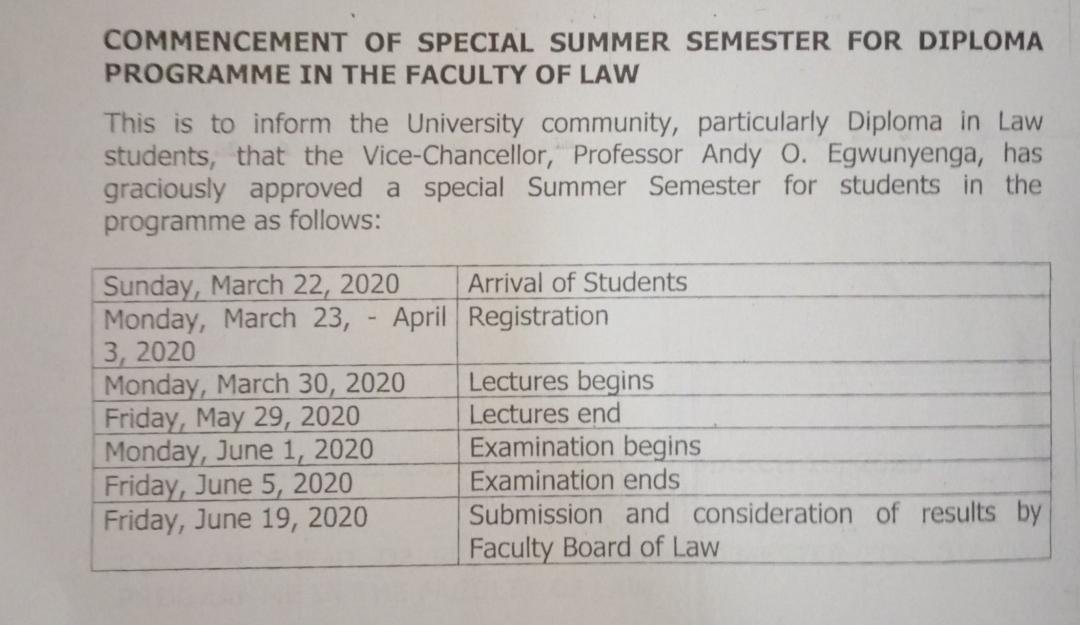 Students are henceforth advised to stop hanging banners at Site III small gate, as it does not only vitiate the gate, but also prevents security officers from seeing what is happening at the other end.
We are also pleased to inform Delsuites that the walkway trails that fell in parts of Site III, are currently under construction, as well as the fence opposite Post Graduate Hostel.
The University Management is keen in making sure every student have a smooth semester, as lectures begin tomorrow, Monday, 16th of March, 2020.