Delsu Admission and Amnesty Update from SUG, Director of Information
This is to inform everyone admitted into the DELSU JUPEB Programme for the 2019/2020 Session, that the Vice-Chancellor, has approved their Orientation Exercise for Wednesday, 15th January 2020 by 10 am at the 750 Lecture Theatre, Site III.
The orientation is mandatory for all JUPEB students.
Admission List for Affiliate of Delta State University, Oghara Affiliate Centre Mosogar is out.
Candidates can access their admission status via https://delsu.edu.ng/printproadmmosogar.aspx.
Congratulations to all those admitted.
Delta State University, Abraka, has released THIRD BATCH Admission List for the Diploma Programme of the Centre For Continuing Education.
Here are the names of those admitted into the programme.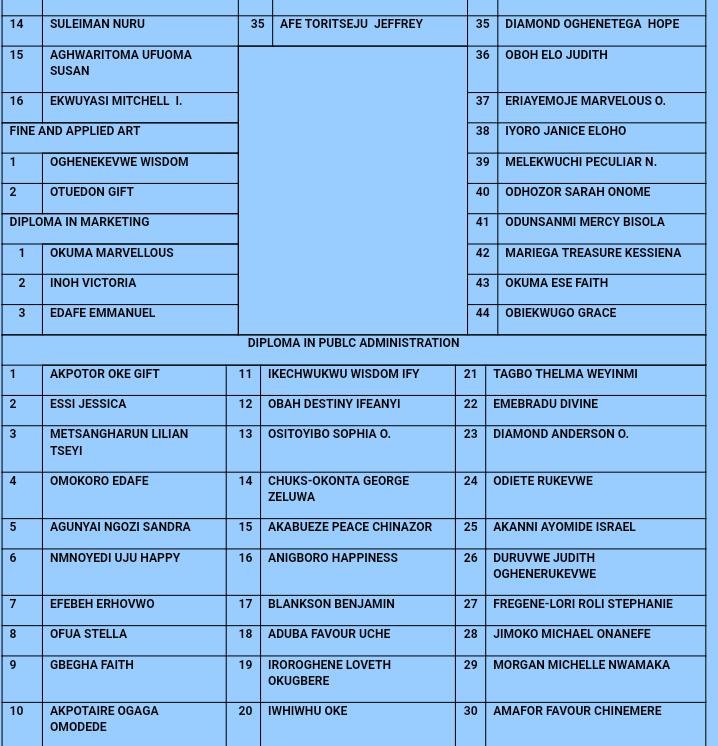 Congratulations.
There have been yet controversies about the amnesty granted by the Vice-Chancellor.
The Student Union will like to categorically state that those granted amnesty are ALL FINAL YEAR UNDERGRADUATE STUDENTS WHO HITHERTO LOST THEIR STUDENTSHIP OTHER THAN REASON(S) OF MISCONDUCT, BUT ARE IN GOOD ACADEMIC STANDING and POSTGRADUATE STUDENTS WHO HAVE COMPLETED THEIR COURSE WORK CREDITABLY, BUT ARE YET TO DEFEND THEIR THESIS/DISSERTATIONS DUE TO EXPIRATION OF THEIR PROGRAMME DURATION.
The Undergraduate Students are to meet with their Heads of Department, while Postgraduate Students are to visit the PostGraduate School for appropriate clearance.
The concerned students are to subsequently visit the Bursary Department to make all necessary payments, before proceeding to the ICT for registration of their courses.
Deadline for the amnesty is 17th of January. Deadline for Registration of courses for all student is 17th of January, Deadline of School fees payment is 17th of January, 2020.
Emetenjor Friday Maduabuchi
Director of Information, SUG
Other Related Posts…