Delsu Official Bulletin: Delta State University Current School News
S.E. VOL. XXXI NO. 18 Wednesday, March 18, 2022 Special Edition
Resumption of Studies
This is to inform the University Community, particularly staff, Undergraduate and Post graduates that the Senate of the Delta State University, at it's 183rd Regular Meeting, held on Wednesday, March 16, 2022.
Deliberated extensively on the approved University's Academic Calendar and decided as follows:
that the University approved Academic Calendar would be followed strictly;
that all undergraduate and Post graduate students are to return to campus immediately and commerce lectures;
that Faculties and Departments should ensure that academic activities commence fully.
Consequently, all students are expected to return to campus and commerce academic activities with immediate effect.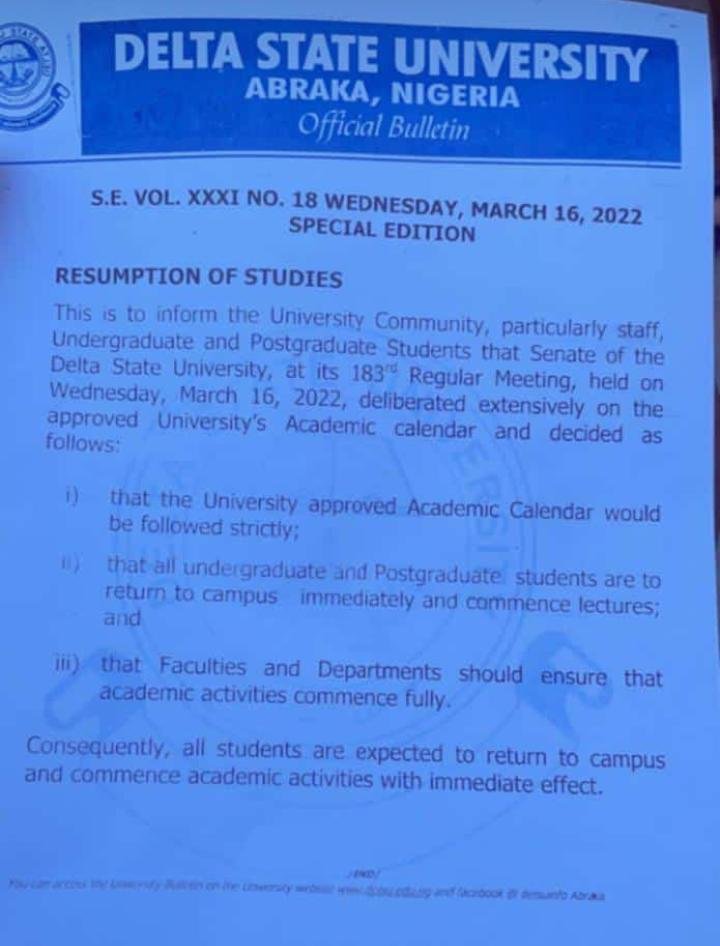 If for some certain reasons, you are not able to find what you hoped you will find. Kindly drop a comment in the comment section below and we will immediately point you in the right direction.
See what's Trending in Delsu at the moment