If you're a prospective college student or you're currently completing a degree, you might wish to apply for local or national scholarships to help pay for your education.
A well-written and engaging submission document, such as an application letter, will aid you in demonstrating why you are deserving of support and financing.
Including essential information about your accomplishments, objectives, and future aspirations will help you stand out from the crowd and impress the application review committee.
In this article, we will discuss some essential tips that can help students to write a great scholarship application.
Let's started.
7 Essential Tips for Students to Write an Engaging Scholarship Application
Here are the seven important tips that will help students to write an engaging application for the scholarship.
1. Review the Organization's Requirements
The first tip that can help students in writing a scholarship application is to read all the terms and conditions or other requirements given by the organization. The reason for reading or reviewing the requirements is it helps you to understand whether you are eligible for the scholarship or not.
For example, suppose your organization is only accepting the scholarship applications of those students whose grade point average (GPA) is 3.5 or higher. In that case, you can ensure that you meet their criteria and feature your GPA in the application.
Other than that, in the requirements, there is some additional information, such as a warning against talking about irrelevant things, instructions to explain everything clearly, and if there is a need for other documents, etc.
2. Include Your Contact Information
Adding contact information to your scholarship is necessary. It allows the organization to reach out to you without any issues.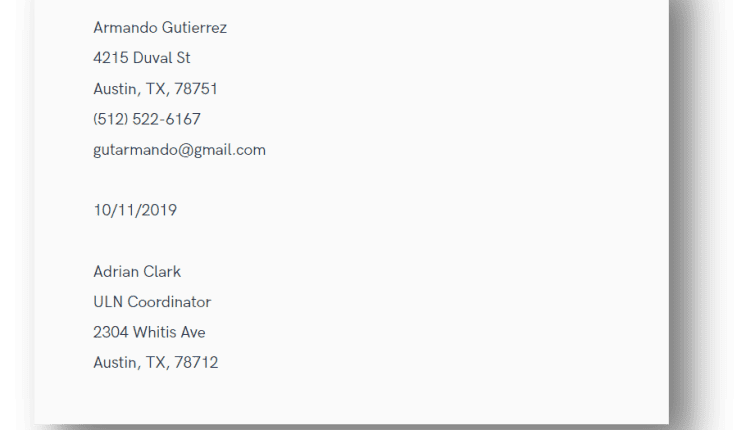 In writing, you have to add your contact information at the header, and after that, you have to add your organization information below.
In contact info, you have to add your name, phone number, academic email address, and residential address. Along with this, you have to add the school or institute you are currently attending.
Next, you have to write information about your institute, which will help the organization recognize that you are a student of that specific school or college.
The above-given image is a good example of how to add contact information to your scholarship application.
3. Maintain Clarity in Your Writing
It is the most important tip for every student who is applying for an academic scholarship. In writing your application, you don't have to use irrelevant information. The majority of the applications were rejected because, in their writing, there is not any valid point they talk about.
To make your application stand out in front of the scholarship organization, you need to make sure that your text clearly explains everything.
For this, you have to remove irrelevant text from your application text and also make sure that your application can be easily understood by the reader.
If the reader is finding difficulty in understanding your application, then there are chances that your scholarship request will get rejected.
Another way to get rid of this issue is to paraphrase your application text. It will help you in improving the clarity of the text by removing some redundant text and also make it easy to read and understand.
Also, paraphrasing changes some difficult words with their easier synonyms and breaks longer sentences into two parts. Sentences with more than 15 to 20 words are more difficult to read than short sentences.
You can paraphrase your application text manually or by a paraphrasing tool. Manually, you have to do the above-mentioned steps, like breaking lengthy sentences, removing irrelevant text, and replacing difficult words with easy synonyms.
But if you choose to paraphrase your scholarship application with a paraphrasing tool, then it will make your content clear and readable automatically.
Paraphrasing tools use advanced AI-based technology that can help them to scan the given text and paraphrase it.
This is how you can improve the readability and clarity of your scholarship application.
4. Highlight Your Major Accomplishments
In the application, mentioning your previous accomplishments related to your educational course can help you a lot in getting the scholarship.
Highlighting your accomplishments allows the committee to learn more about your strengths, personal qualities, and skills that make you a deserving recipient of the scholarship.
You have to keep one thing in your mind while writing about your achievements. Don't mention those achievements that are not related to your educational program.
Like, if you have won an award for the "Best Chef in the School" and you are applying for a scholarship related to  "Computer Science," then it will not make any sense if you mention that in your scholarship application.
But if you have won an award like "Talented Software Developer" and your academic program is "Software Engineering," then it makes sense and also makes a good impression on the reader because the scholarship organizations award their scholarship to those who are talented and have proven their skills.
5. Show Them Your Interest in Your Education and Career
This is the last paragraph of your scholarship in which you show them your interest in your education and career. In this section, you clearly express your passion for your prospective career path and discuss why you're interested in the subject.
It allows you to show the organization that you plan to use their financial support only to further your learning and complete your degree and develop your professional skills so you can qualify for the career in which you are interested.
Adding some specific information or details about your academic goals can help you gain the reader's attention and highlight why you're fit for the scholarship.
6. End Your Application with a Proper Call to Action
You might be thinking that Call-to-Action (CTAs) are only used in blogs, articles, or other social media posts.
Yes, it is true, but it's not wrong to say that using a proper CTA in the scholarship application can help you to get your intended reaction
So, after seeing the above image, you will notice that using this type of CTA in your scholarship application will make a good impression on the readers of the organization.
Humans are creatures that are more likely to do something if it's requested of them. With a CTA, you can "request" the scholarship committee to reach out to you.
Remember, CTA is always placed at the last of the application or any other piece of writing.
So, this is the last step of writing a scholarship, and the next part will all be about proofreading.
If you are having difficulty on how to write a scholarship application in perfect format, then you can also check some templates.
They will help you get an idea about which format to use in the application.
1. Proofread Your Application Before Submitting
In proofreading, you should read the text carefully because without properly reading it, you will not notice your mistakes. It plays an important role in writing, and when it comes to academics, then you must proofread your paper or application.
When you are writing a scholarship application, you want to engage the reader and make a positive impression.
But if the reader notices that there are many grammar and spelling mistakes, then how could you engage your readers?
So, to grab the readers' (positive) attention, you have to correct your grammar and spelling mistakes. Otherwise, there may be a chance that your application will be rejected.
Wrapping Up
This article was all about how we can write great scholarship applications that can make a good impression on the organization. We have mentioned seven essential tips that can help you to write a scholarship application.
To make your application look great, you should review the requirements or terms and conditions of the organization. After that, when you start writing your application, at the header, include your and your academic institute's contact information.