Professor Andy Egwuyenga Emerges as Delsu's New VC
Delta State Governor Sen. (Dr.) Ifeanyi Okowa has just appointed a new Delsu VC. Professor Andy Egwuyenga emerged as the new Delta State University Abraka Vice Chancellor over 15 other qualified Aspirants.
Andy Egwuyenga, a Professor of Parasitology was a Rector of the Delta State Polytechnic, Ogwash-Uku.
Secretary to the State Government, Mr Chiedu Ebie in a statement, said the new DELSU VC will assume duty on the 1st of December 2019.
In accordance to the statement issued by the Secretary to the Delta State Government (SSG), Mr. Chiedu Ebie, which was dated November 1, 2019.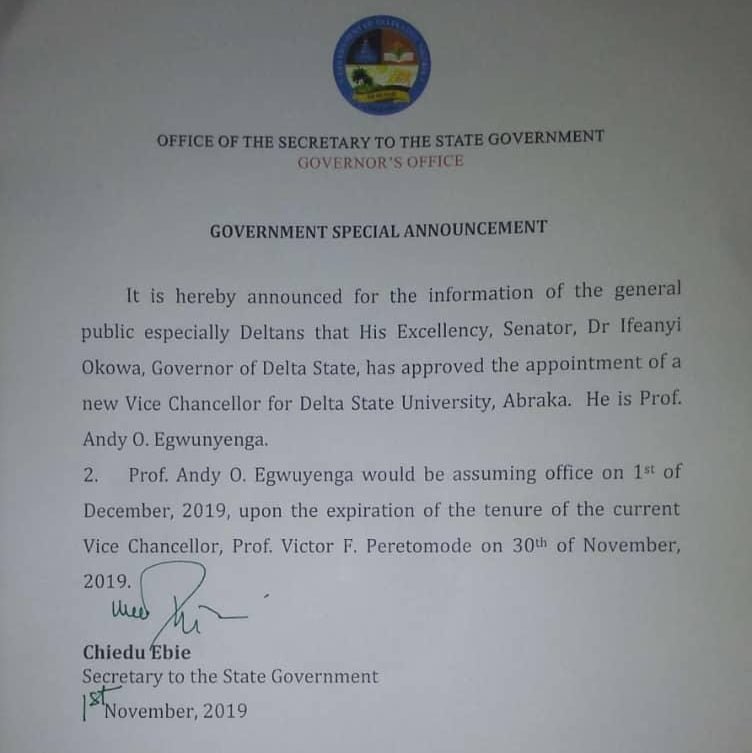 The appointment of Professor Andy Egwuyenga as the new Vice Chancellor(VC) of Delta State University will take effect from December 1, 2019.
As the former Vice Chancellor, Professor Victor Peretomode's tenure comes to end on the 31st November, 2019.
The above appointment came as a result to the report from the selection board for the appointment of a new DELSU VC (Vice Chancellor), for the prestigious Delta State University(DELSU) by the governor.
Andy Egwuyenga who emerged as the best of the 15 professors that were shortlisted for the screening process.
He was awarded the first position ahead of Professor Grace Ogwu and Sam Asagba who came 2nd and 3rd respectively.
Prior to this day, some lecturers from Delta North has stressed that the new Vice Chancellor should come from their area since from the inception of the university, only Delta Central and South senatorial districts have produced Delsu VC's.
In a recent interview with the Governing Council Chairman.
Professor Sam Oyovbaire talked about ethnicity not been a criteria for who becomes the next Delsu VC.
Congratulations to the new Vice Chancellor of the great Delta State University, on behalf of the staffs of mydelsu blog.
We say a big Welcome to Professor Andy Egwuyenga!!!