Delta State University Acceptance Fee & Clearance Documents for the 2023/2024 Academic Session
Delta State University DELSU Acceptance Fee and Clearance Documents – Congratulations to all new students of Delsu, wishing you a speedy and stress-free screening process.
We understand that you are new to the four walls of Delta State University, so we decided to make things a little bit easier on your side.
Today, we will enlighten you on Delta State University (DELSU) Acceptance Fee and Clearance Documents.
In fact, everything you need to know about your screening process, and we will also go as far as explaining every document you will encounter during your screening process.
Must read: How to Gain Admission into Delta State University (Delsu)
However, this article is for the general public especially all prospective and newly admitted students at Delta State University (DELSU), who would like to know the school's acceptance fee and clearance documents.
DELSU Acceptance Fee for the 2023/2024 session is currently Thirty Thousand Naira (₦30,000) plus a bank charge of one thousand Naira (₦1,000) for Indigenes and Forty Thousand Naira (₦40,000) for non- indigene and also a bank charge of one thousand Naira (₦1,000).
Applicants who were admitted into Delta State University's 2023/2024 via the merit list should kindly note that they are to pay their acceptance fee on time.
Failure to do so within the given time interval, Delsu will deem the offer of your provisional admission to have lapsed.
Please read: Complete List of Delsu Acceptance Fee for Various Departments
Delta State University (DELSU) Registration / Clearance Documents
All applicants are advised to come along with the below items/documents for the Screening Exercise beginning IMMEDIATELY.
The screening process is likely to last for two weeks.
Proof of payment of Acceptance fees.
Original JAMB Admission Letter.
A copy of your Original UTME result.
SSCE/GCE/NECO, etc. Statement of Result.
Letter of reference from a reputable Clergyman/Imam/ Lawyer/Senior Civil Servants.
Birth Certificate or Sworn Declaration of Age.
Local Government of Origin certificate or State of Origin Certificate.
School testimonial.
Passport photographs with red background (12 copies) with one passport on the file and two passports on only the clearance form.
Applicants who obtained their entry qualifications, i.e., WASC, GCE, NECO, etc., on or before 2016 (WAEC) must tender their original certificates.
Please note that the use of affidavit in lieu of Statement of result and correction of names may not be accepted.
All applicants who fail to show up for the Clearance Exercise within the given time interval would be deemed to have rejected their offer of admission and therefore the offer would lapse.
If you are new to the Official Delsu student portal, here is a guide to help navigate the school's portal with ease.
Recommended: Delta State University (Delsu) Student Portal Guide
Detailed Explanation on Delta State University's Clearance Documents
The above listed documents may be totally new to most of you but we will try our best to explain them the best way we can.
1. Proof of payment of Acceptance fees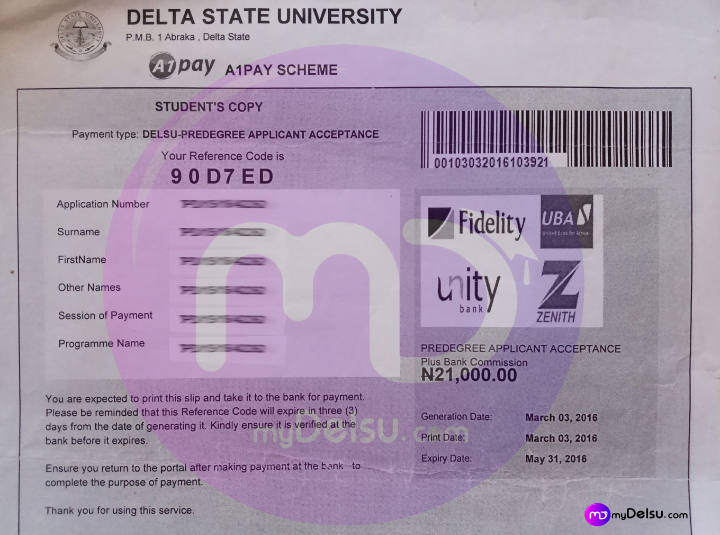 Visit a cybercafe to generate a virtual pin, although you can do this yourself but we advise you don't.
Make use of the cyber cafe's around the school premises, they have more experience to tackle any issue that may arise.
You will be given a paper containing your virtual pin, Application Number, your personal details and images of bank logos you are to pay your acceptance fee in.
Kindly note that this slip has a generation, print and expiry date. Do not procrastinate, immediately you are given this slip locate the closest bank and pay your acceptance fee.
Tips: It is a well known fact in Delsu, that printing any virtual pin on a Friday is dangerous, there is always a massive queue waiting for you at the bank. So be smart!
As soon as you have been offered admission into the university, JAMB already has your admission letter ready for you.
All you need to do is visit a cybercafe, login to your jamb profile and and print it out.
Please, print it out in a colored paper and make photocopies because you will be needing it in the future, trust us.
There's a difference between UTME notification of result and the actual UTME result.
Print out your UTME result and make about 5 photocopies.
Don't skip: How To Pass DELSU Post utme (Absolute Guide)
4. Statement of Result (SSCE/GCE/NECO, etc.)
These are your O'level Statement of Results, this is self explanatory.
Come along with Original copy of your statement of result duly certified and stamped by your secondary school principal.
If your original WAEC result is already available, please come along with it.
You should make at least 5 extra photocopies.
5. Letter of reference
This is a letter from a reputable Clergyman/Imam/ Lawyer/Senior Civil Servants. Come with the original copy and don't forget to make at least 5 extra copies.
This letter should contain the logo, name, signature and stamp of your referrer.
Some Cyber cafe around the school usually run this stuff, but what's the point. Just get one from home instead of a forged one.
Trending: Top 4 Mistakes Delsu Aspirants Make – (Number 2 will shock you)
6.Birth Certificate/Sworn Declaration of Age.
This is also self explanatory, come with the original copy of your birth certificate or a legal letter of sworn declaration of age.
Also make photocopies, about 5 photocopy should be enough.
7. Local Government of Origin or State of Origin Certificate.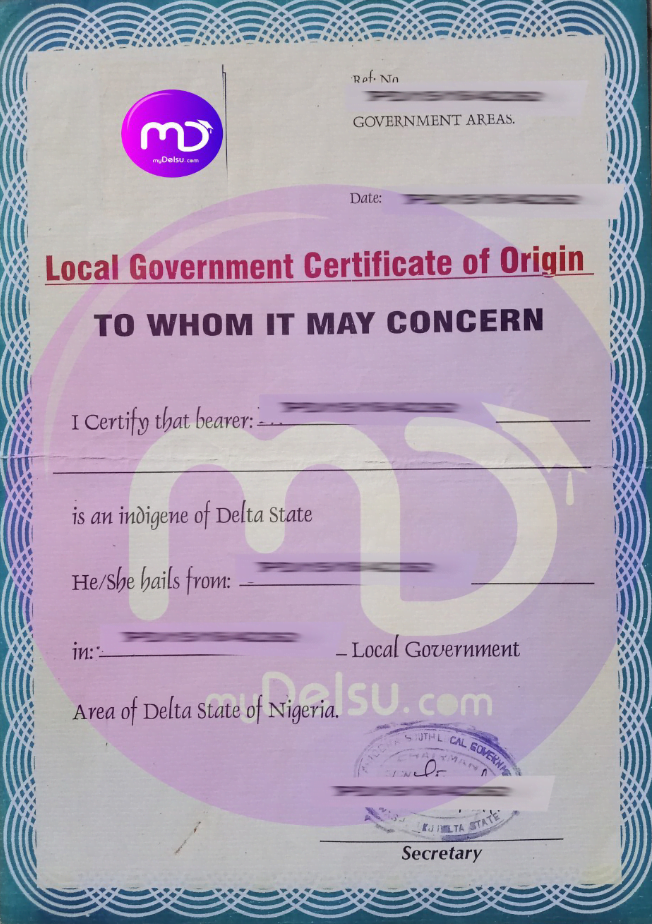 This is a certificate that proves you are from a particular local government or state.
Go to your local government secretariat to get this, in case you don't have one.
8. School testimonial
This is your secondary school leaving testimonial certificate.
Your secondary school should have already provided you with one, make about 5 photocopies as well.
9.Passport photographs
You can take passport photographs around the school premises.
Your passport should have a red background, we advise that you make at least 24 copies to be on the safe side.
You are going to be needing quite a number of passports.
10. Student Data File and Student Official file.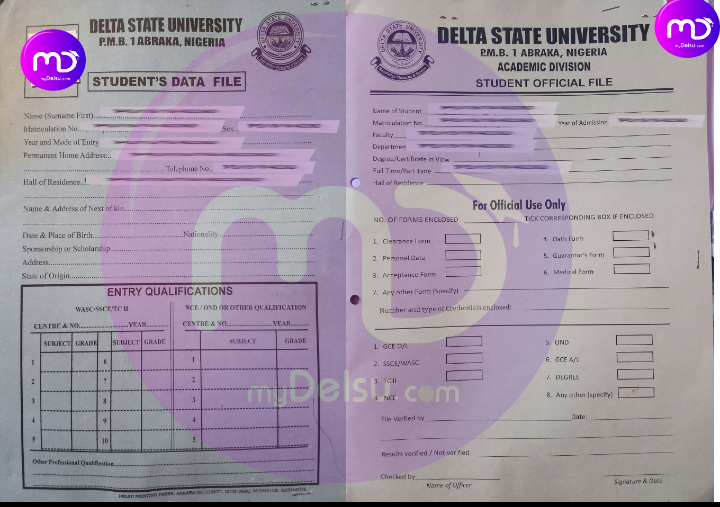 You can get these files from your department or the library, these files comes with three important documents.
Clearance form.
Form for acceptance of provisional offer of admission.
Personal data form. Make sure to fill in your correct details.
We cannot over emphasize this; these details will be what you will use throughout your official and educational career/life.
Any mistake here, is likely to affect you in the future, to correct these errors it will necessitate a court affidavit.
11. University Health Centre Medical Card
Don't worry about this one, it will be given to you as soon as you are done with your medical screening.
Finally, Congratulations on being one of the lucky few to gain admission into the Great Delta State University.
It is not easy, wishing you a speedy and stress-free screening process once again.
Also read: Delsu Change of Course Form Academic Session & How to Apply
Delsu Acceptance Fee – Wrapping up.
In conclusion, the Delsu acceptance fee plays a crucial role in the admission process at Delta State University. It serves as a confirmation of acceptance by prospective students and signifies their commitment to join the university community.
While the fee may vary from year to year, it is an essential investment that helps support the institution's infrastructure, facilities, and educational resources. By paying the acceptance fee, students not only secure their place at Delsu but also contribute to the growth and development of the university.
Ultimately, the acceptance fee serves as a symbolic initiation into the academic journey and marks the beginning of an exciting and transformative experience for students at Delta State University.
---
Click the button below to Gain Access to our Members' Exclusive Group, before it fills up again.
Gain Access Now!
---
Here are some articles that we know you will find interesting …
And Lastly, Enjoy Abraka Sun…..
What Others are Currently Reading…