Top 35 Best Websites to Find Remote Jobs Online in 2023 [Updated]
Best Remote Jobs Website – So, you're curious about working from home, right? I get it, it's 2023 and lots of people are working without needing to go to an office. And the good news is, there are tons of websites out there to help you find these work-from-home jobs!
This guide, "Best Websites for Discovering Remote Jobs Online" is like your map to that treasure. It will show you the best places on the internet where you can find these jobs, no matter what kind of work you're interested in.
It doesn't matter if you're already used to working from home or if you're just starting to explore the idea, this guide is here to help you find the perfect job that lets you work where you want.
What is a Remote Job?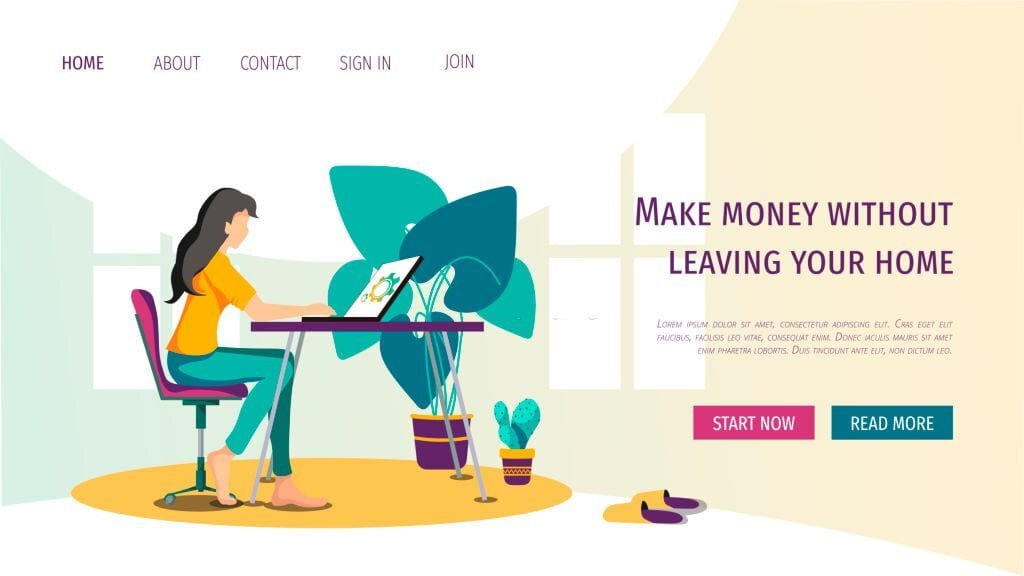 A remote job is a type of work where you can perform all your tasks and responsibilities from a location outside of a traditional office environment.
Think about it as a job where instead of commuting to work, you can work from home, or anywhere else you choose.
Let's imagine you have a job, but instead of going to a specific place like an office or a store to do your work, you do it from wherever you want.
Maybe you work from your bedroom, at a local coffee shop, or even from a park. This is essentially what a remote job is.
The important thing is that you're connected to your colleagues and supervisors, usually through the internet.
You might use email, video conferencing tools (like Zoom or Google Meet), and other online communication tools to chat with your team, participate in meetings, and share your work.
Remote jobs can be found in many different fields. For example, you could be a remote software developer, graphic designer, teacher, customer service representative, writer, or even a doctor who provides telemedicine.
The main benefit of remote jobs is flexibility.
You can usually set your own schedule and work in the environment that suits you best.
But it can also be challenging as it requires a lot of self-discipline and good communication skills.
You need to make sure your work gets done, even if nobody is physically there to watch over you.
Best Remote Jobs Website in 2023
Here are 30 remote job websites you can use to help you find a job:
1. WeWorkRemotely.com
WeWorkRemotely.com is a super useful website for finding full-time work-from-home jobs. It's got listings for lots of different fields, like tech, design, marketing, and customer service. The site is easy to use and has extras like articles with tips for remote workers. But it's also really popular, so you'll need to make sure your application shines to get noticed!
2. Remote.co
Remote.co is more than just a remote job site—it's a comprehensive resource for everything remote work-related. This site includes a job board featuring a wide range of roles and industries, and it's an invaluable resource for anyone looking to understand the remote work landscape better.
3. JustRemote.co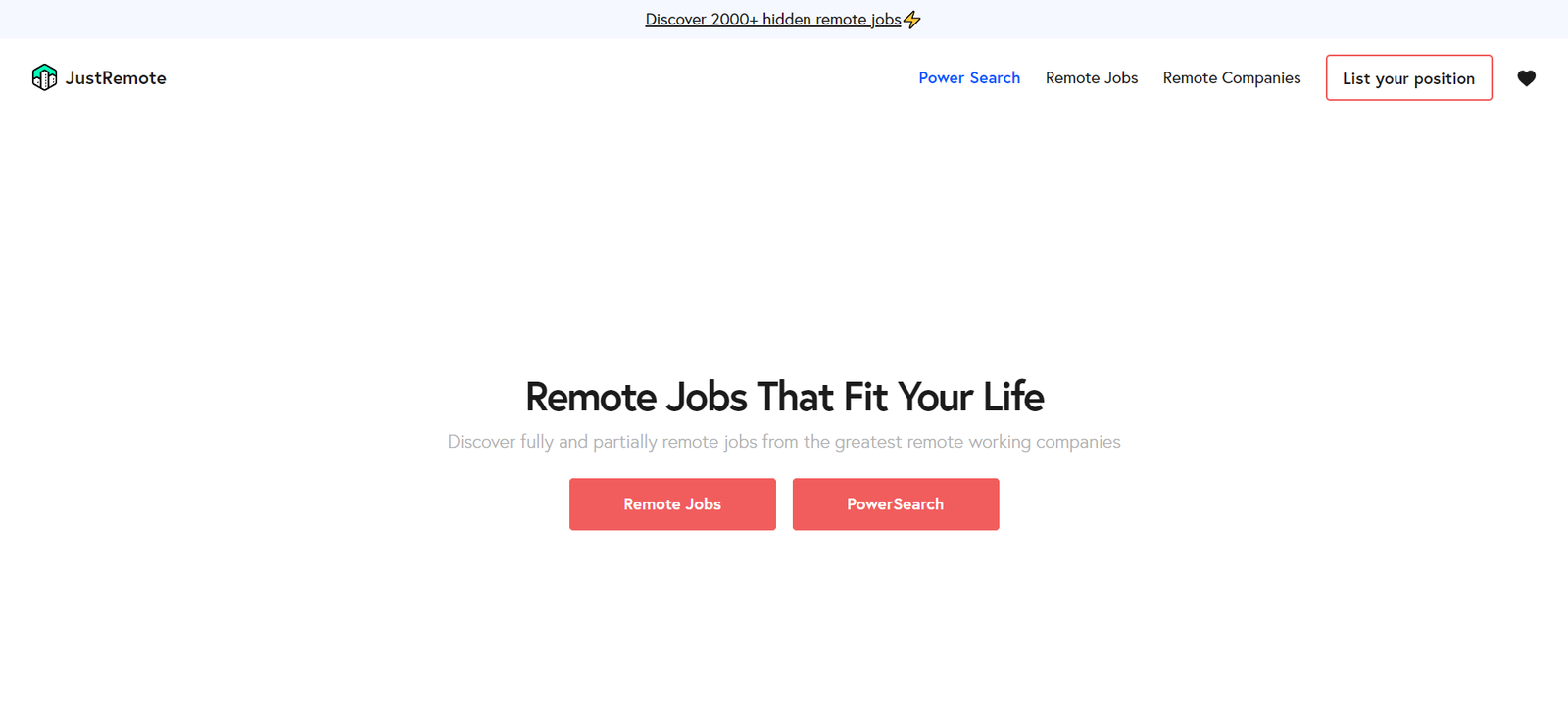 JustRemote.co is dedicated to providing a simple, easy-to-navigate platform for job seekers. The site provides job listings in a wide array of fields, including, but not limited to, development, marketing, and design. If you value simplicity and variety, JustRemote could be the perfect fit for your job search.
4. RemoteOK.com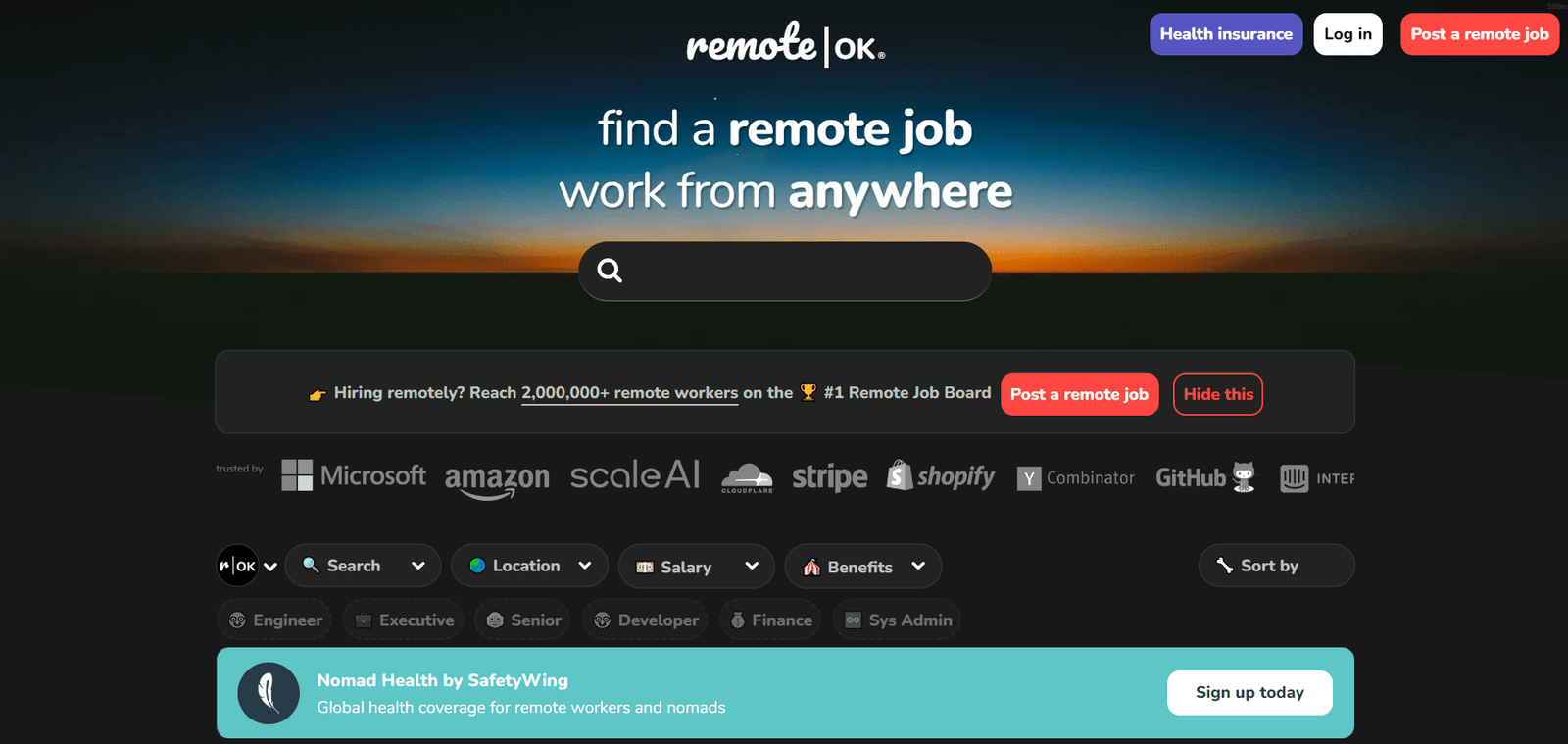 Remote OK is a top choice for digital nomads seeking remote work. The site aggregates remote job listings from other sites, providing a substantial database of opportunities.
What's nice about Remote OK is it shows how many people have applied for each job. This can help you decide which jobs to apply for.
Remote OK connects digital nomads with companies eager to hire dynamic individuals who are comfortable working independently.
5. WorkingNomads.com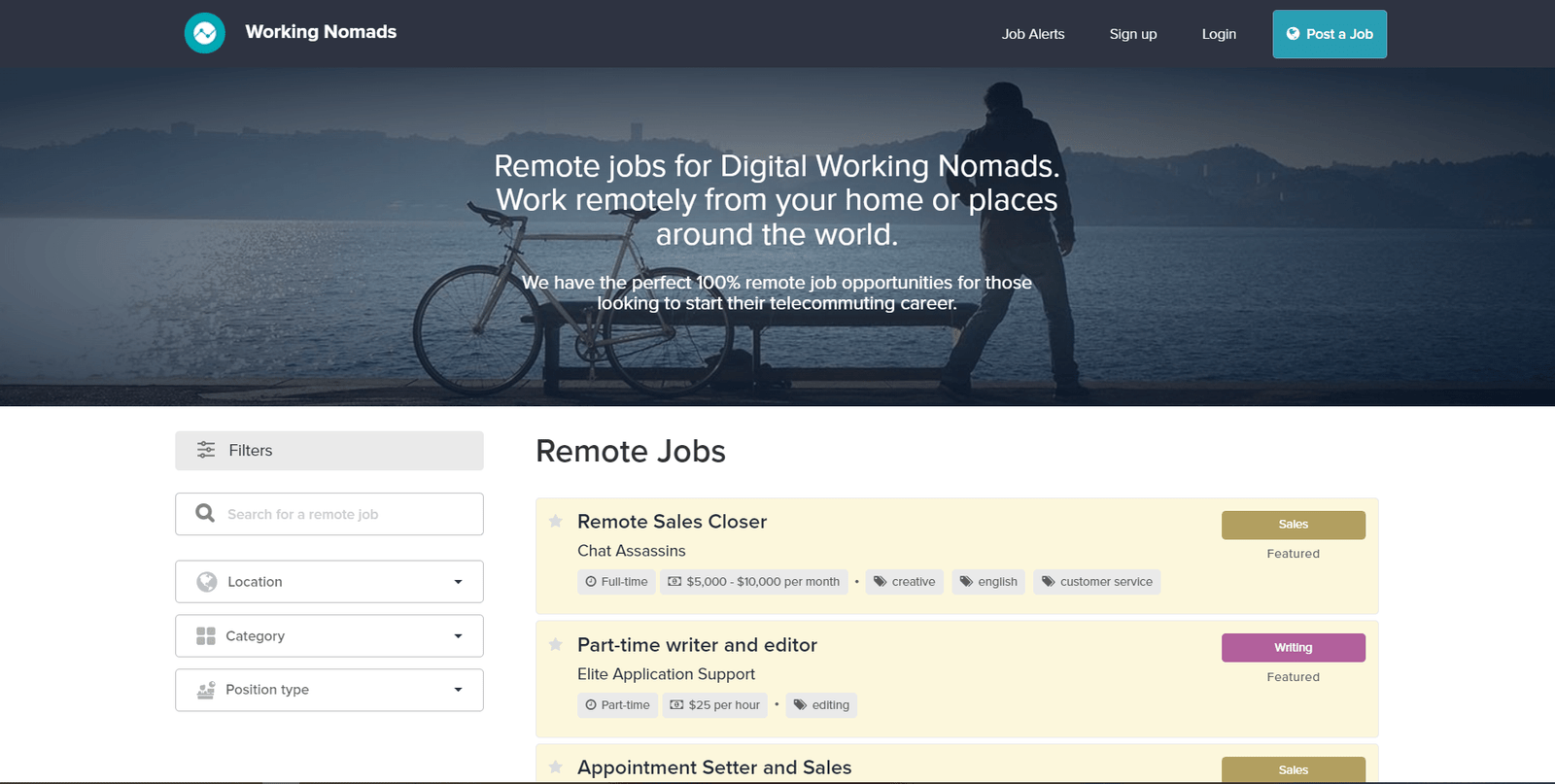 As the name suggests, WorkingNomads.com is designed for individuals who desire the freedom to travel while maintaining their careers. The site offers a curated list of remote jobs spanning several categories, from Development to Writing. You can even sign up for job alerts in your field, Working Nomads effectively curates and delivers a wide variety of remote job listings right to your inbox.
6. Jobspresso.co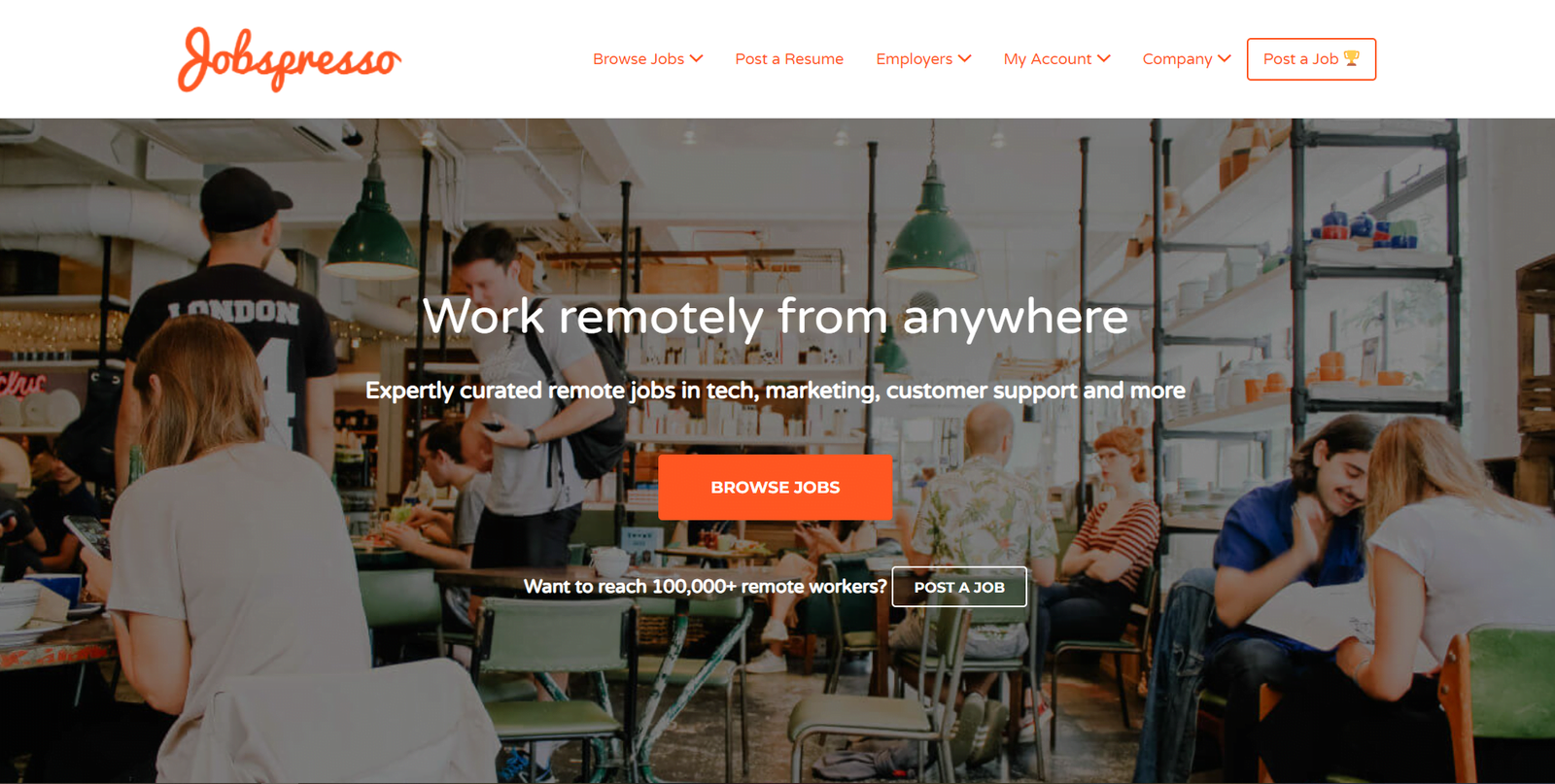 Jobspresso features hand-picked remote jobs from around the world. With jobs in categories ranging from tech to marketing, and even recruiting, the site makes it easy to find reputable remote roles that match your skills and interests.
What's nice is all jobs on Jobspresso are hand-picked and reviewed, so you know you're getting quality listings.
As it's a favorite site for many, make sure your application is strong and unique!
7. Pangian.com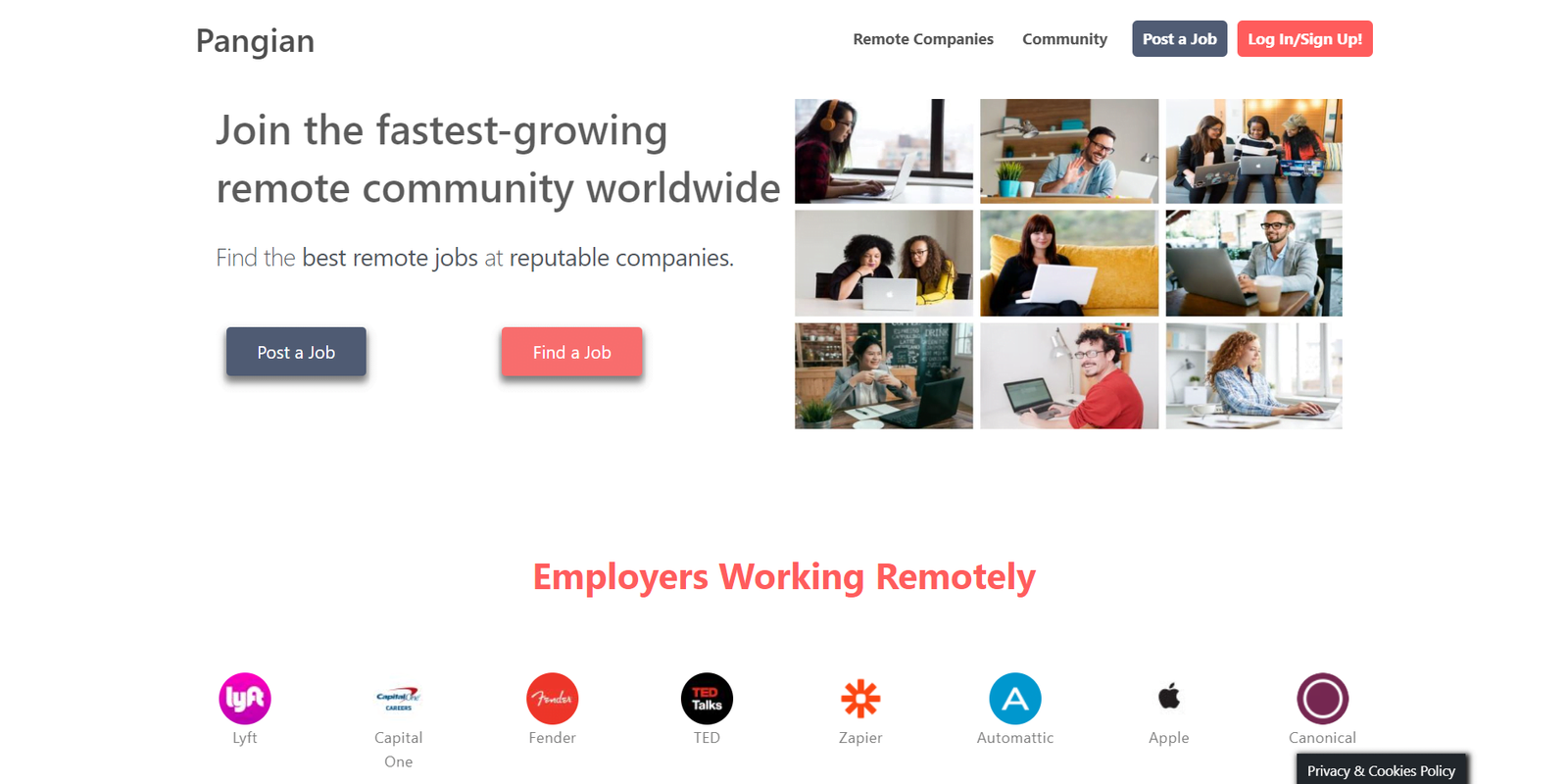 Pangian is more than a remote job site—it's a global community of remote workers and travelers. The site not only offers remote job postings but also provides an avenue for remote workers to connect, network, and share experiences, making it a comprehensive platform for remote work enthusiasts.
8. AngelList.com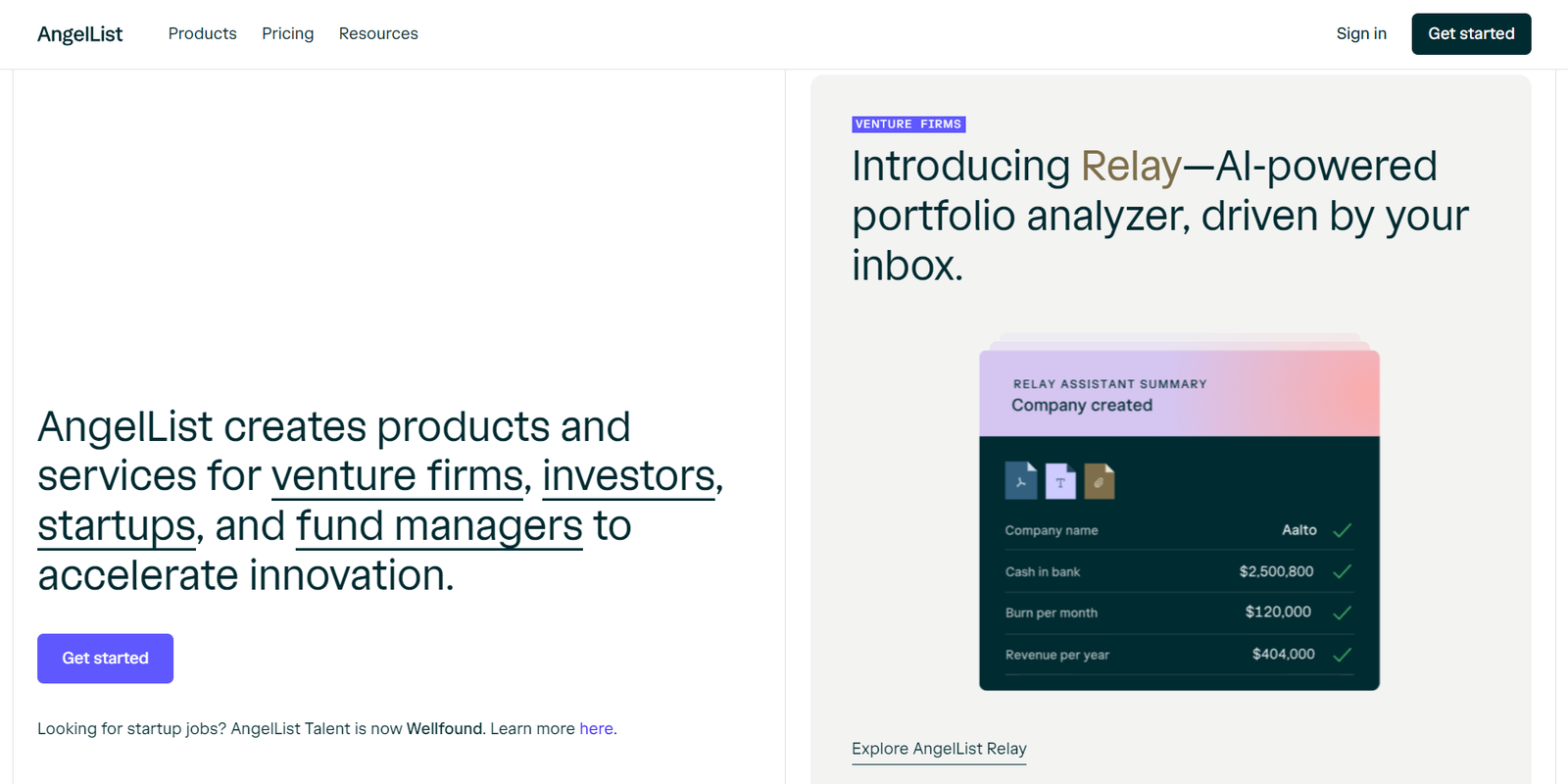 AngelList is a top spot for finding remote jobs, especially in startups. You can find all sorts of roles, particularly in tech and marketing. An interesting thing about AngelList is that you can see salary ranges upfront. It's popular among startup companies, so be ready to create an application that shows your innovative and entrepreneurial spirit!
9. DynamiteJobs.com
Dynamite Jobs is one of the newer players in the remote job site space but has quickly gained traction due to its active, updated list of remote jobs. The site not only provides job listings, but also offers a resume review service and personal job placement assistance for dedicated remote job seekers.
10. LinkedIn.com/Jobs
LinkedIn Jobs is a powerful tool for finding remote jobs. Since it's connected to your LinkedIn profile, it can suggest jobs that match your skills and experience.
You can find all sorts of remote jobs here, in any field. It's also great for networking with professionals and companies.
As it's a massive platform, make sure your profile and applications are top-notch to catch an employer's attention!
11. Indeed.com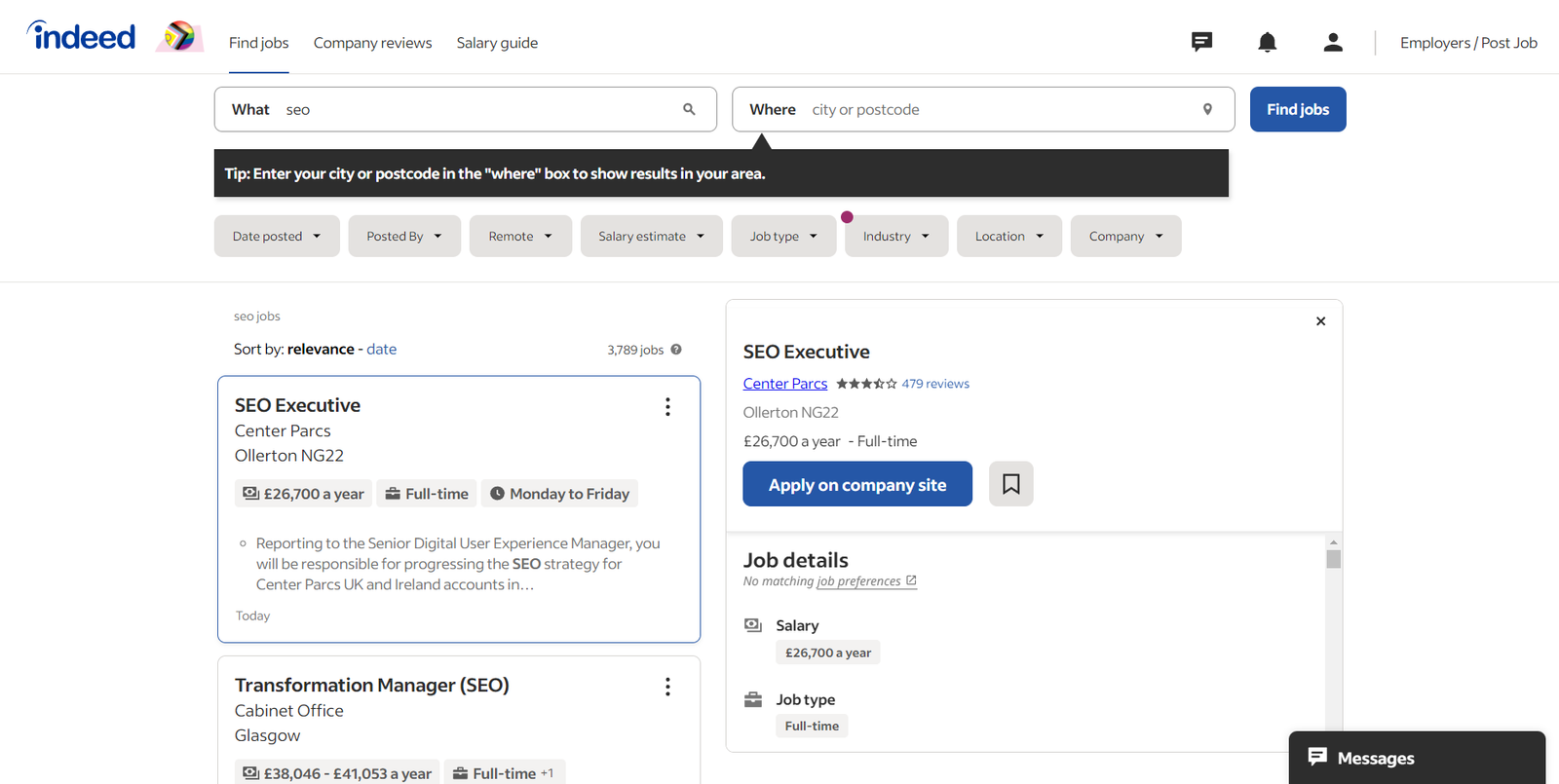 Indeed is another well-established job search engine that also lists remote jobs. Like LinkedIn, It covers all sorts of job fields, from customer service to marketing and everything in between.
You can easily search for remote jobs by typing 'remote' in the location box. Since it's such a big site, you'll be up against a lot of competition. So, make sure your application really stands out!
With a vast database of jobs, it's a reliable resource for anyone looking to work remotely.
12. Glassdoor.com
Glassdoor goes beyond being a job listing site. It provides insights into company salaries, reviews, and interview processes – invaluable information when job hunting. To find remote jobs, simply type 'remote' in the location field.
What's unique about Glassdoor is it also offers company reviews from employees, which can help you get a feel for a company's culture and reputation before you apply. You can find jobs in nearly any field here. Since it's a well-known site, remember to make your application shine to stand out from the crowd!
13. VirtualVocations.com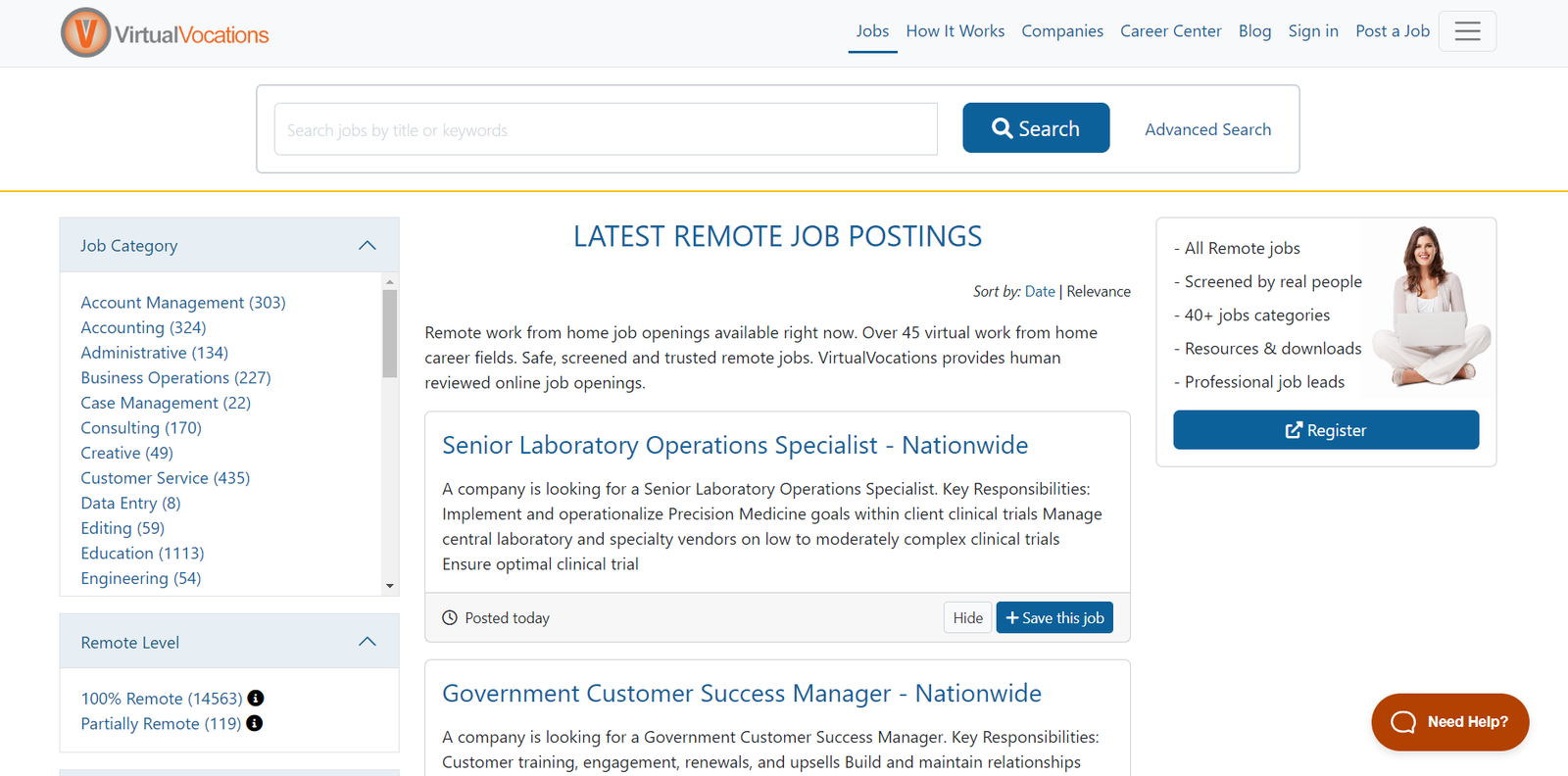 Virtual Vocations is a family-owned job site offering a vast array of remote jobs. It has job postings in a lot of areas, including healthcare, teaching, IT, and more. All jobs listed are hand-curated, ensuring they're legitimate and up to date. The site also offers resume services tailored for remote job applications.
14. SkipTheDrive.com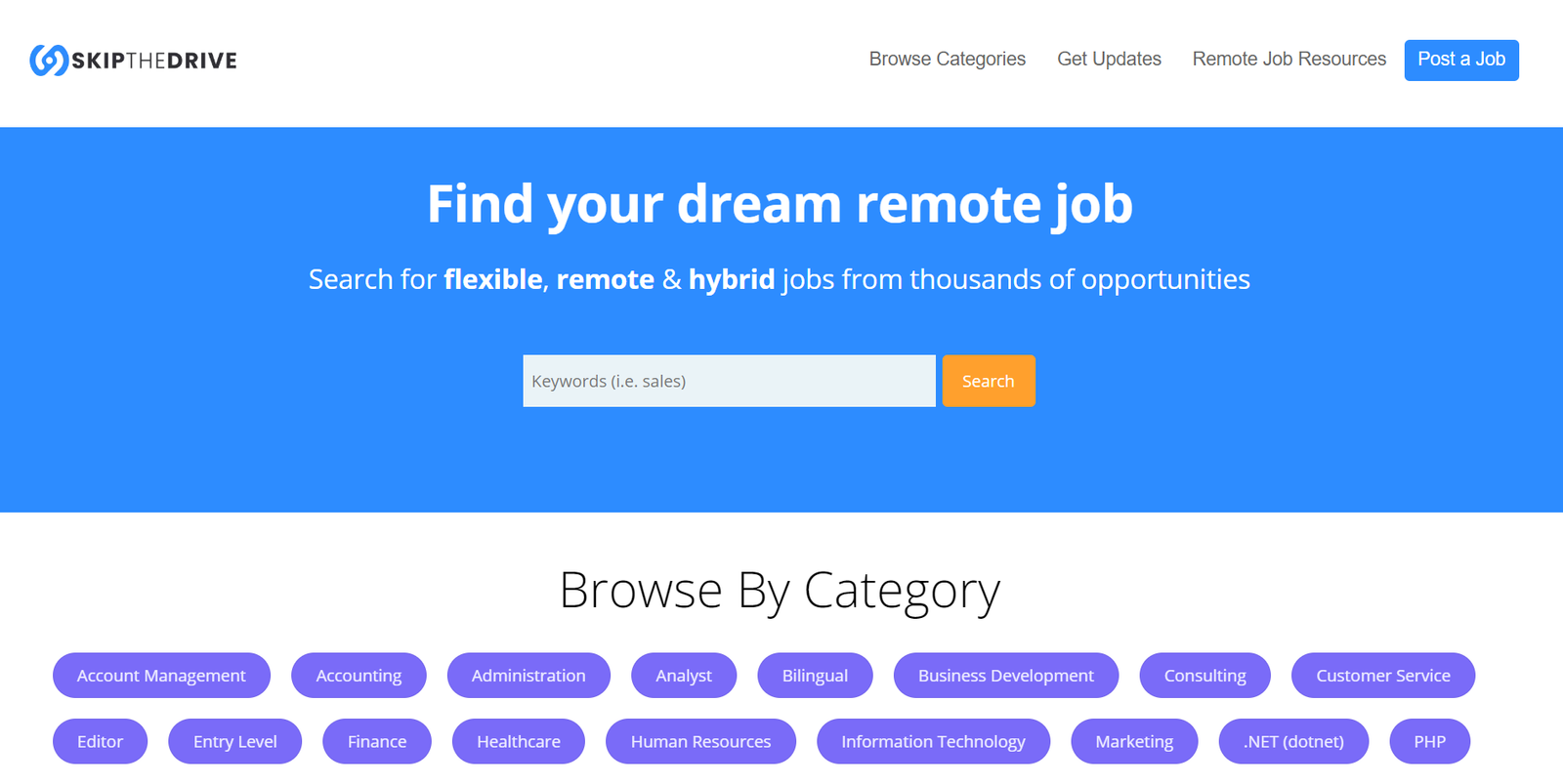 SkipTheDrive does as the name suggests – it helps you find jobs that let you skip the commute. The site lists remote opportunities across various sectors, simplifying the job search process for those seeking remote work. It offers listings in a wide range of areas like customer service, sales, and healthcare. The site is super user-friendly and even includes an estimated commute savings calculator. Remember, it's a popular site, so having a standout application can help you get noticed by potential employers.
15. EuremoteJobs.com
EuremoteJobs is a site for tech professionals looking for remote jobs within Europe's time zones. It's a niche site that's perfect for anyone looking for remote opportunities that align with European work hours.
16. RemoteWorkHub.com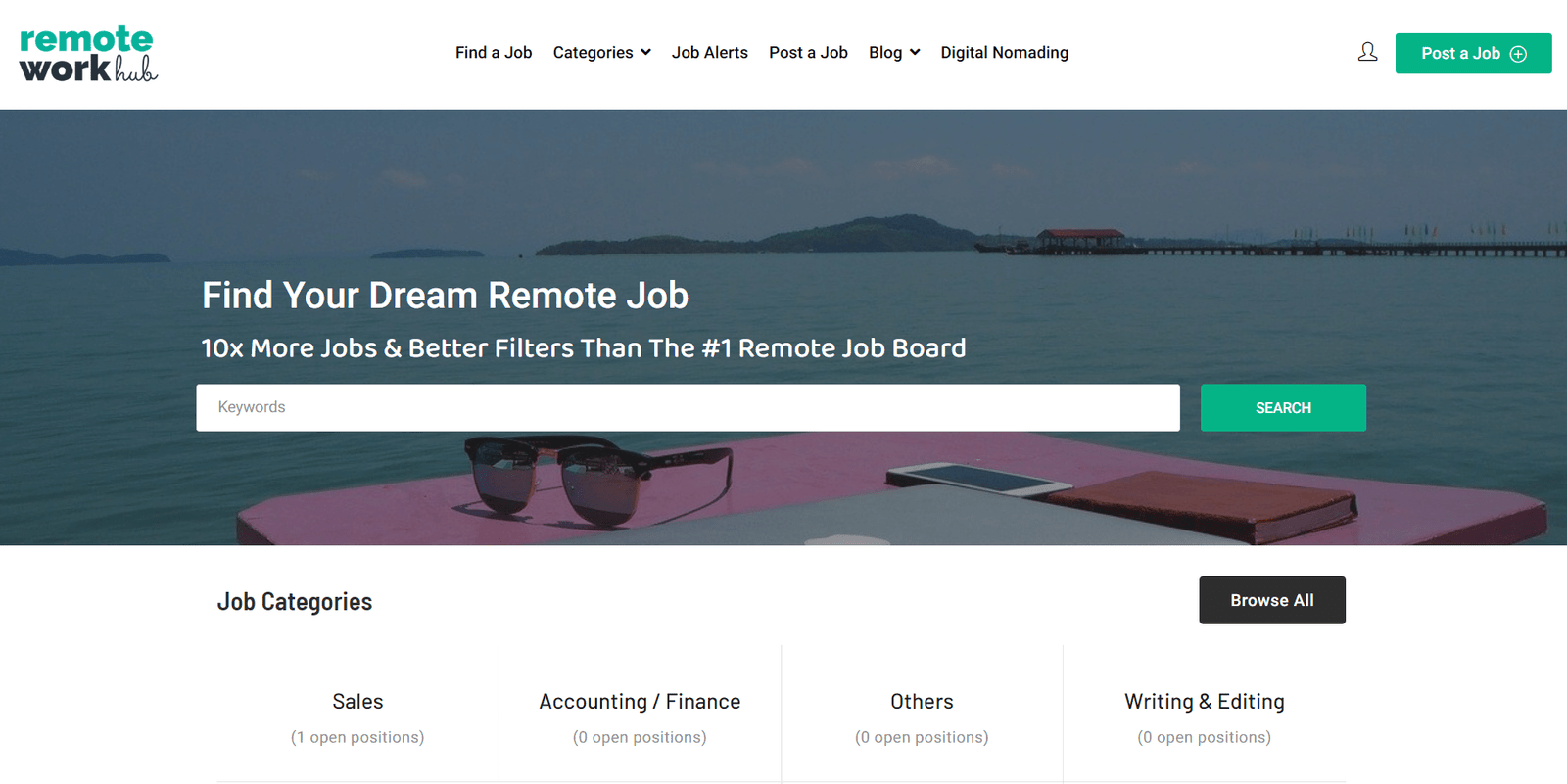 RemoteWorkHub offers a weekly updated list of remote job vacancies. It also provides resources like company profiles and interviews with remote workers, giving you insights into the remote work industry.
17. PowerToFly.com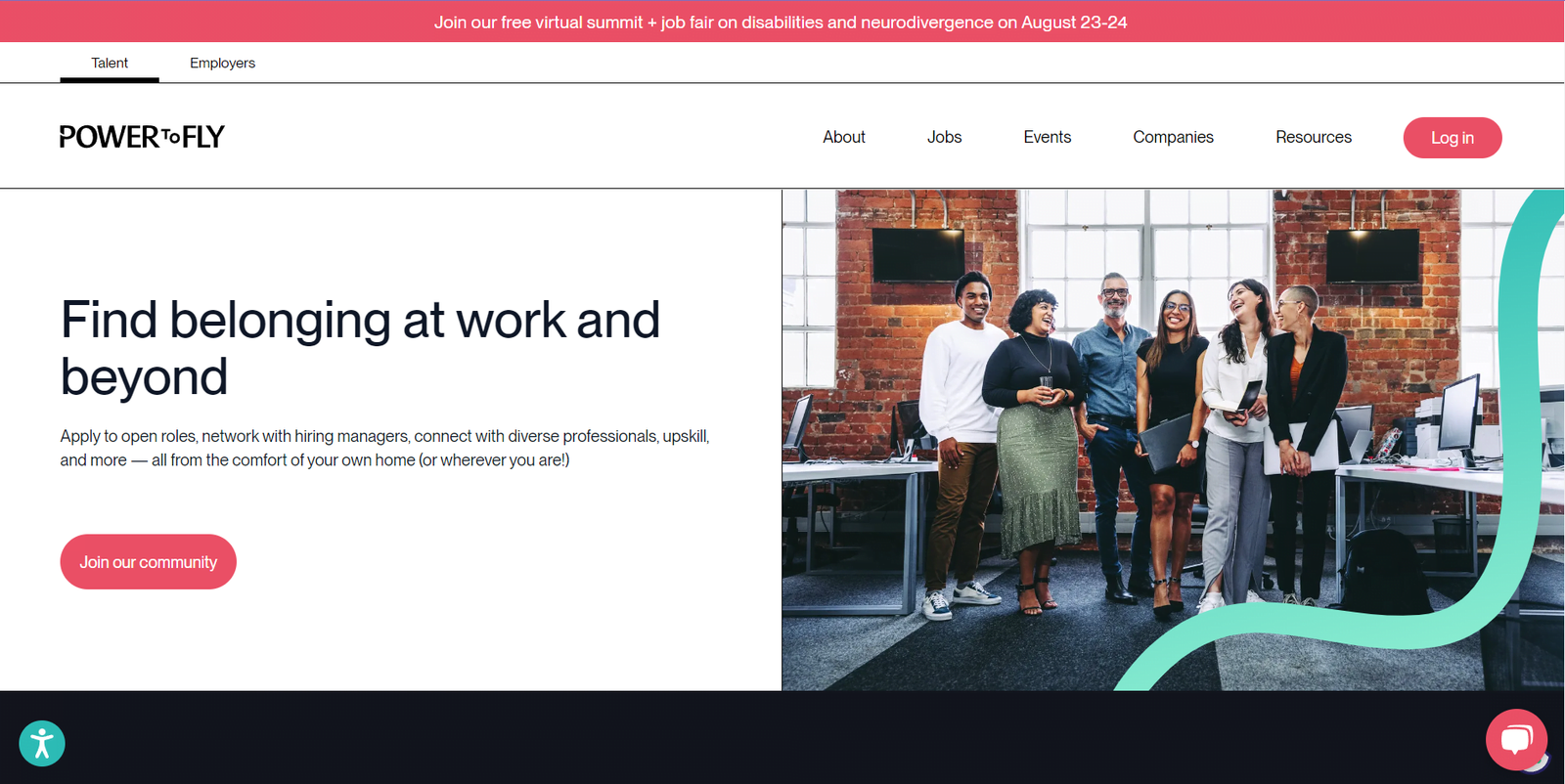 PowerToFly is a platform designed to connect women, including trans women and non-binary individuals, with remote and flexible jobs. It's a diverse and inclusive platform, providing opportunities and resources for women in the workforce.
18. TheMomProject.com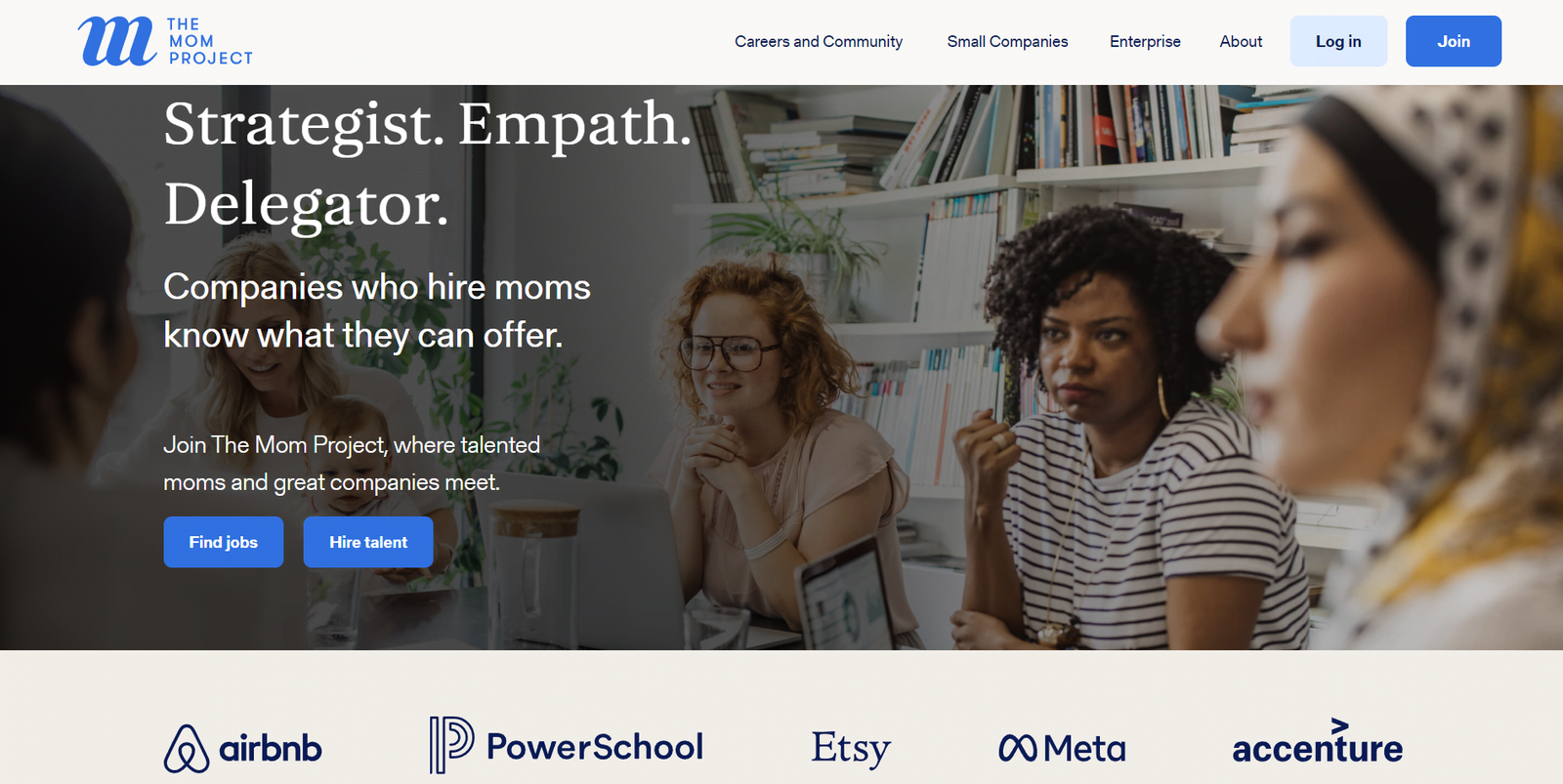 The Mom Project is a digital talent marketplace committed to helping women remain active in the workforce in every stage in their journey, especially moms.
The site lists opportunities, including remote and flexible roles, in a variety of industries.
19. Remotive.com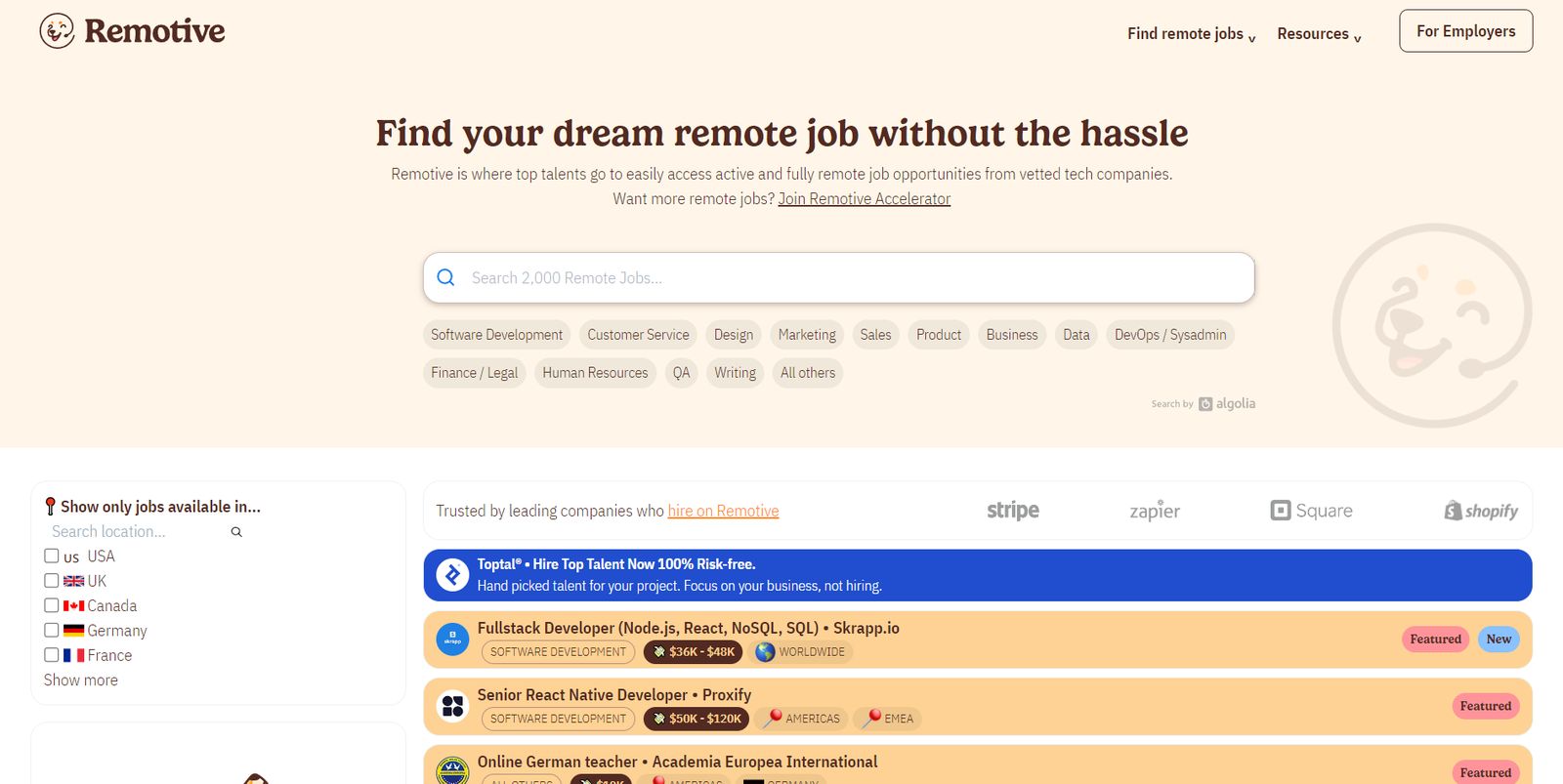 Remotive is a remote-specific job site that also builds a community around remote work. The site includes a job board, blog, and even a section on remote work setup and gear. It's a go-to resource for anyone serious about working remotely.
20. Talent.Hubstaff.com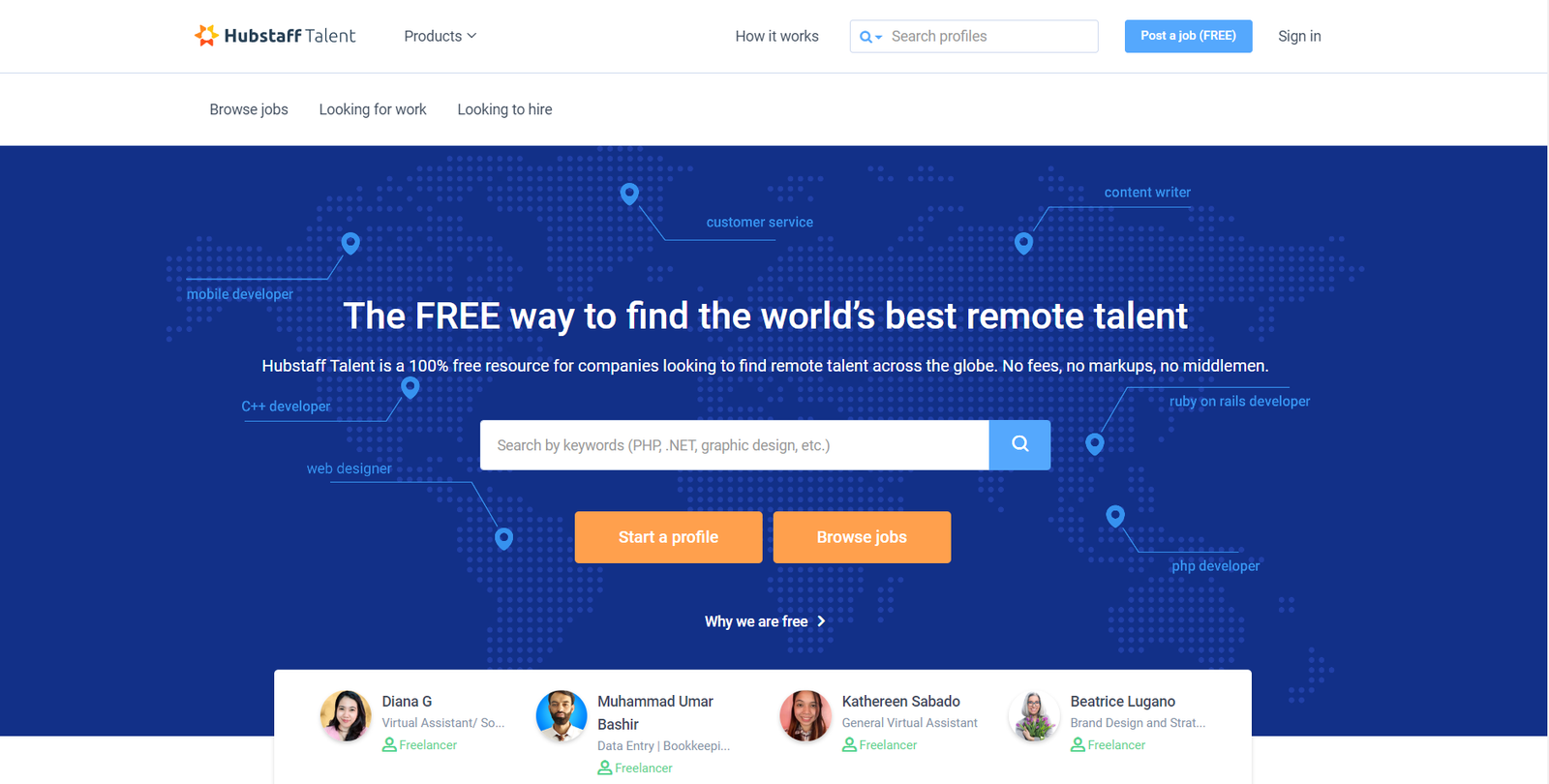 Hubstaff Talent connects employers and freelancers in a fully remote setting. It's a free resource for job seekers, offering a variety of roles from app development to writing.
The platform is simple to navigate, making your remote job search straightforward.
21. TrulyRemote.co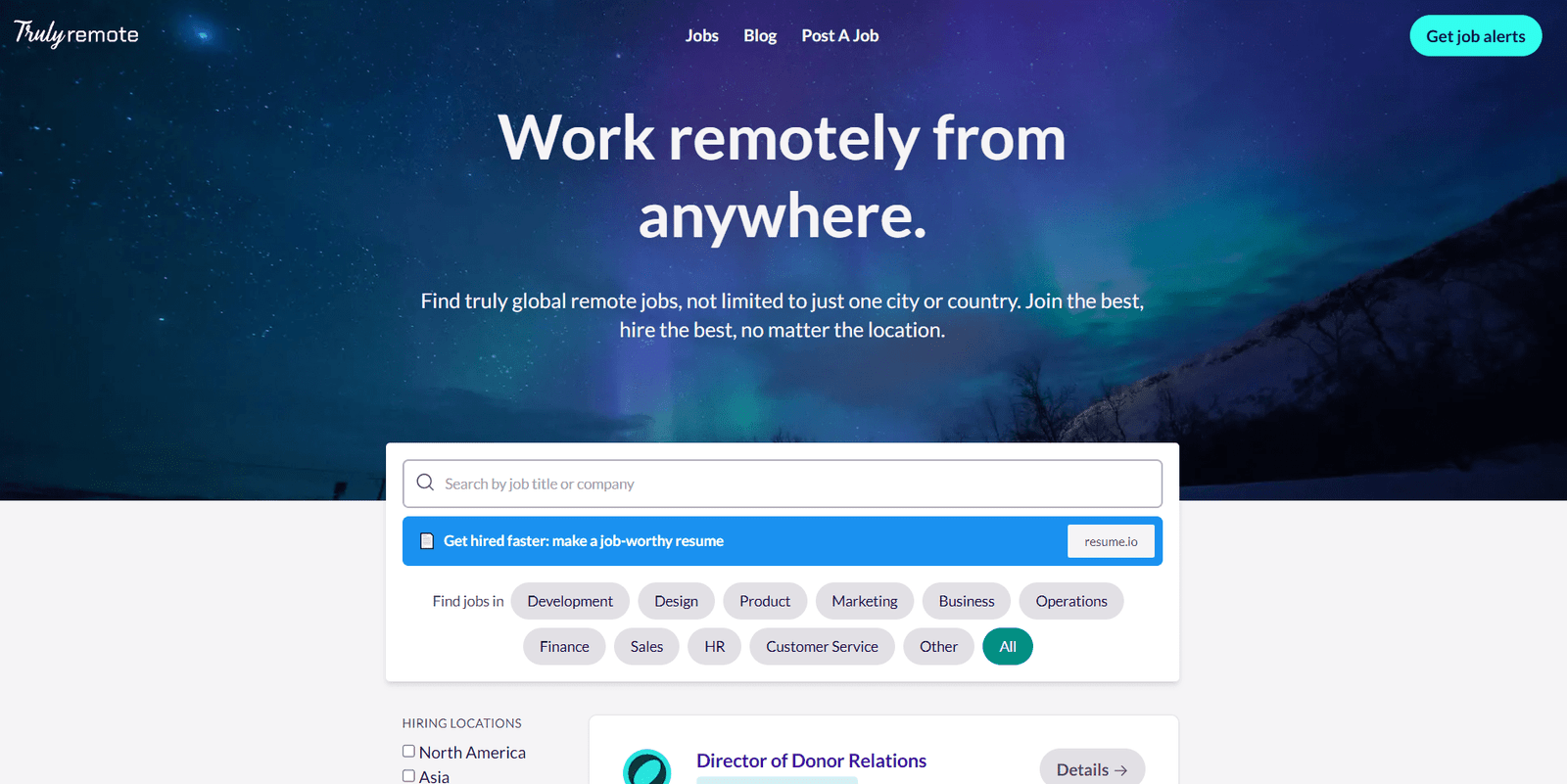 Trulyremote.co is an aggregator that pulls in remote job listings from other sites. It categorizes jobs into various fields like Programming, Design, Copywriting, Customer Support, and more. By compiling listings in one place, TrulyRemote makes it easy to browse a wide array of remote job opportunities.
22. FlexJobs.com
FlexJobs is a subscription service that provides curated remote and flexible job opportunities. The jobs listed on the site are reviewed by professionals to ensure they are legitimate.
FlexJobs also offers resources such as career coaching and resume reviews.
23. Fiverr.com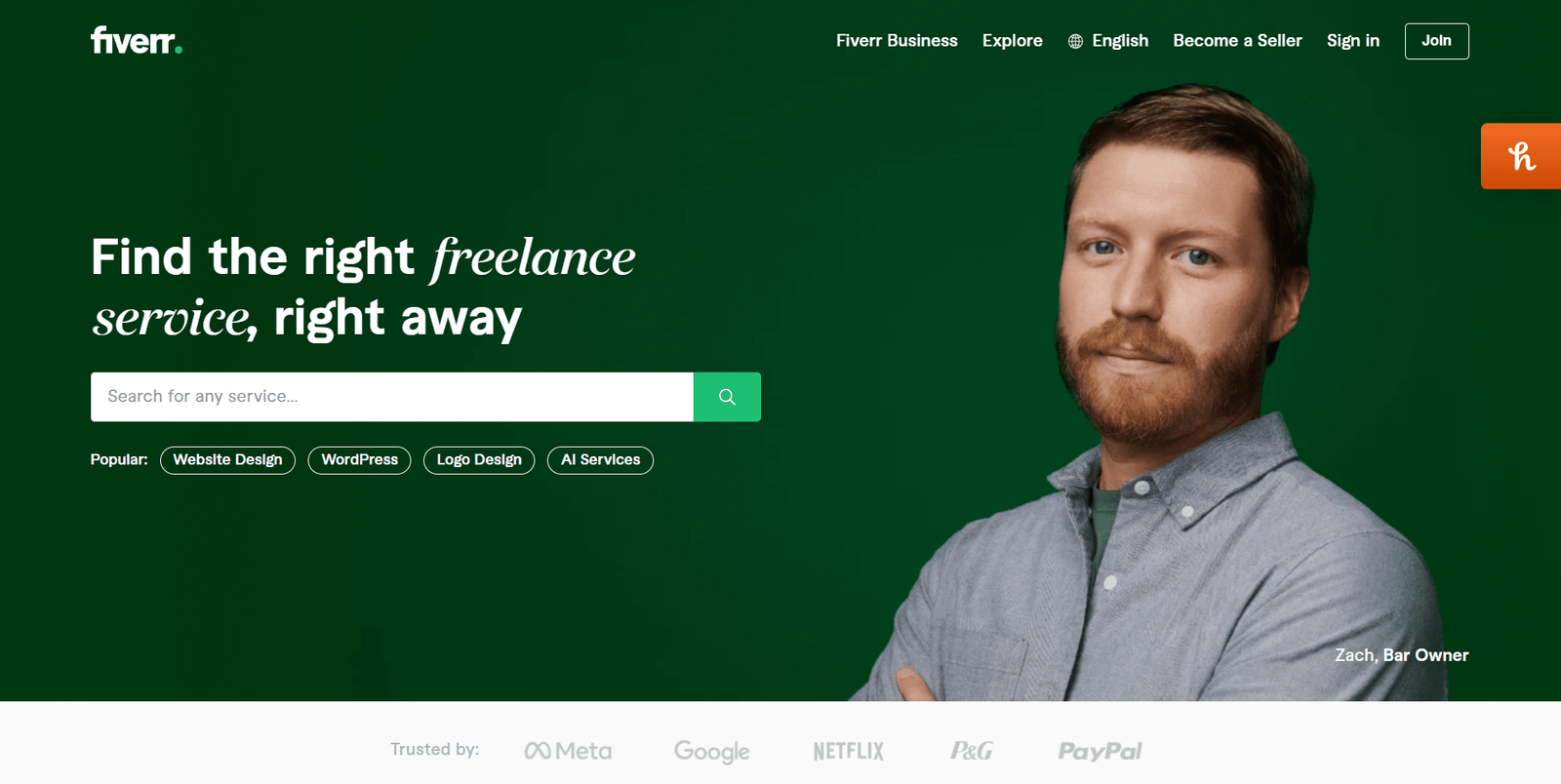 Fiverr is a popular platform where freelancers can offer their services.
It's not a traditional job site, but it can be an excellent resource for remote work, especially for creatives such as graphic designers, writers, and marketers.
24. Upwork.com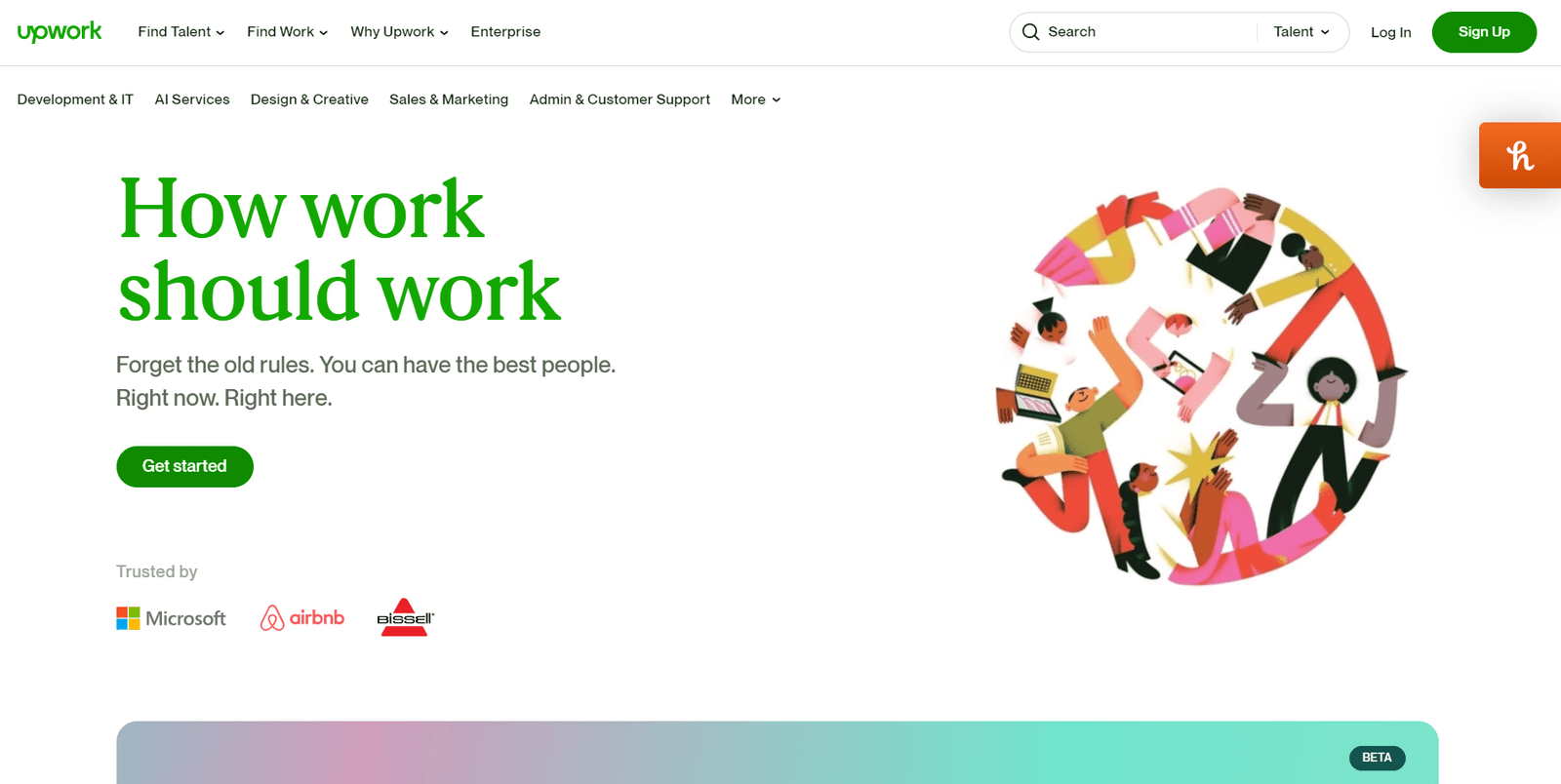 Upwork is similar to Fiverr, serving as a platform for freelancers to offer their services. Jobs can be project-based or long-term contracts. It's a site worth exploring if you're open to freelance work.
25. Toptal.com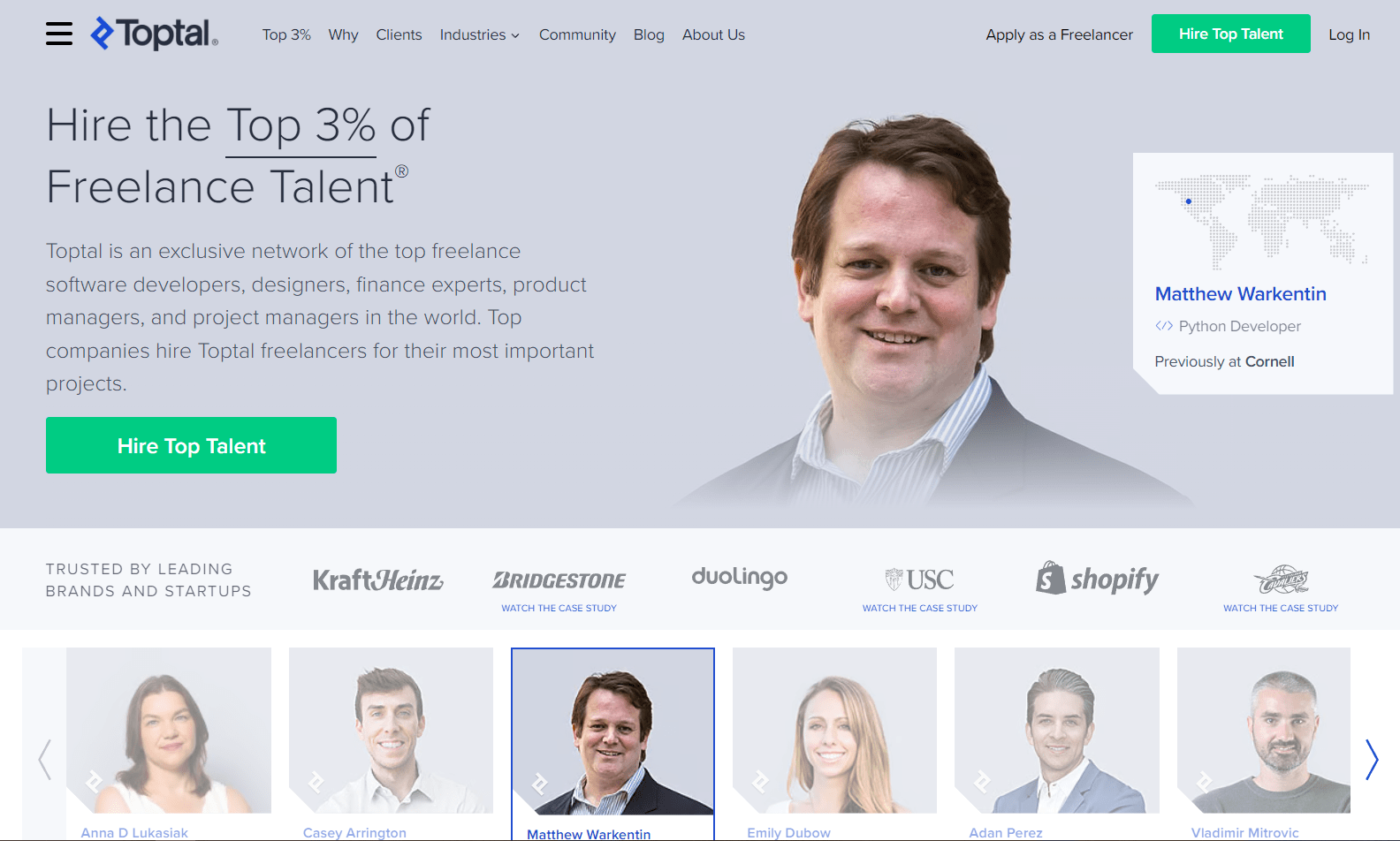 Toptal matches the top 3% of freelancers with businesses. If you have a strong portfolio and are confident in your skills, Toptal could provide you with high-quality remote work opportunities.
26. Outsourcely.com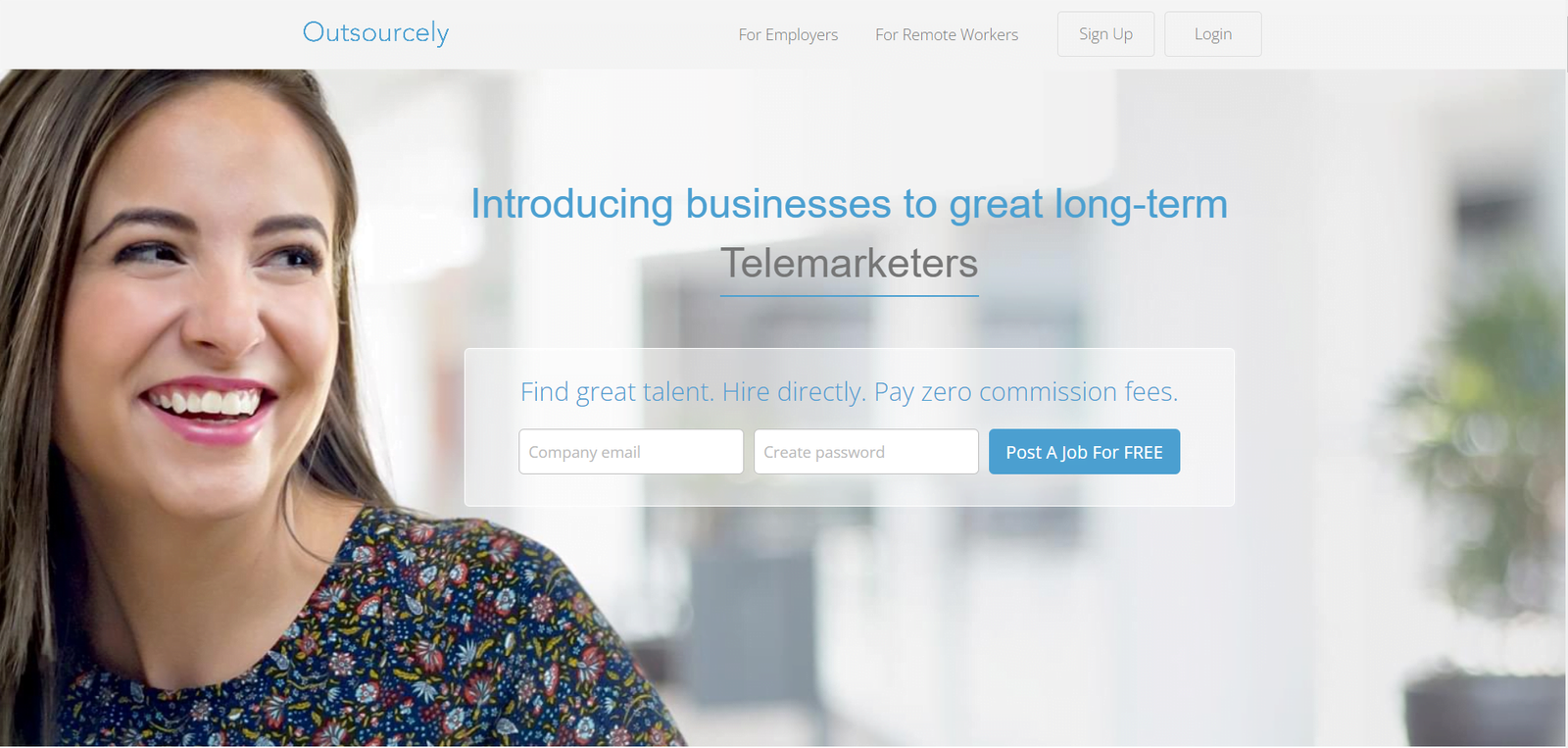 Outsourcely connects startups with remote workers. The platform allows employers to hire directly, so there's no middleman.
This setup can often result in long-term contracts and job security.
27. Remote4Me.com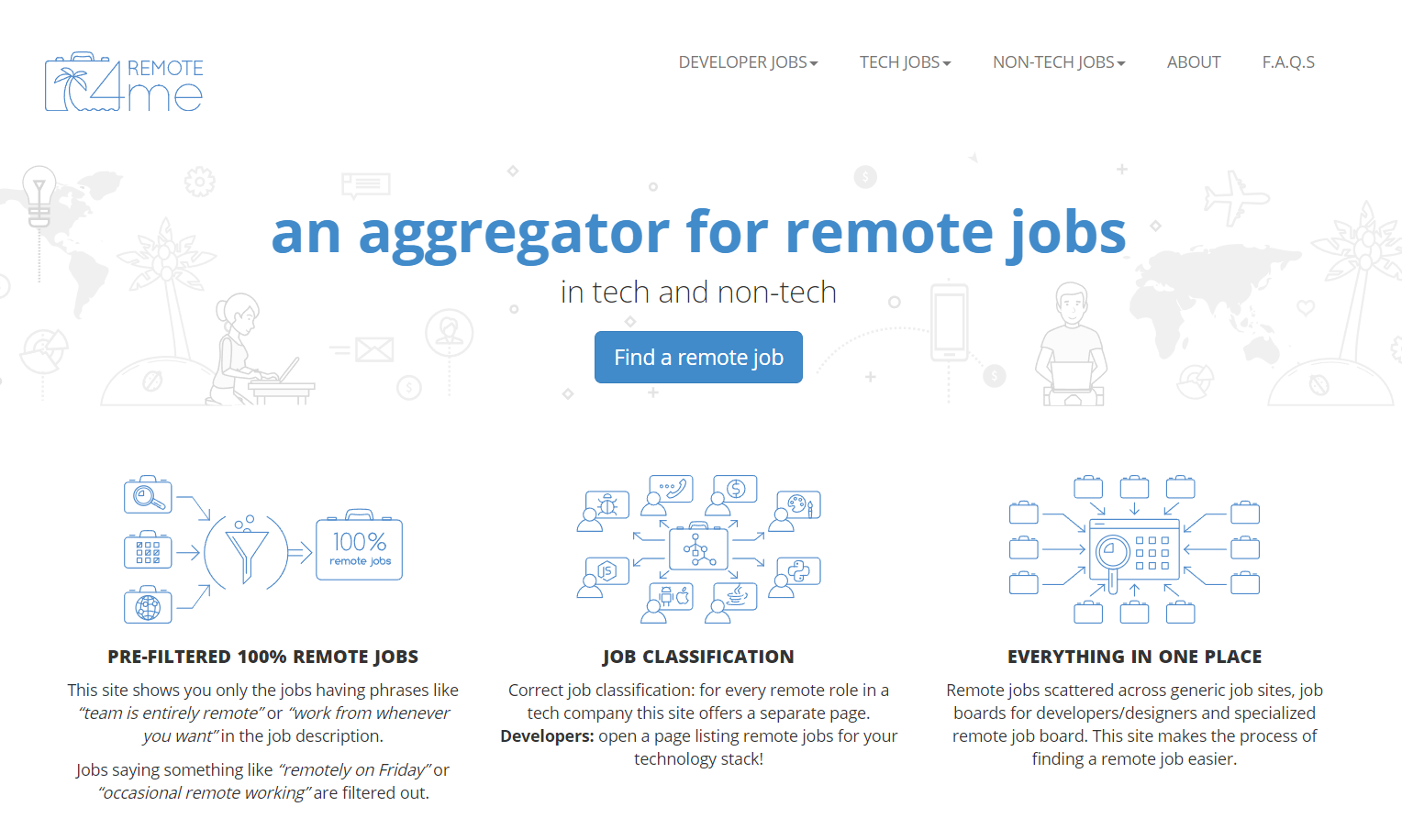 Remote4Me is an aggregator for remote tech jobs. The site categorizes jobs by tech stack, making it easier for programmers to find jobs matching their skills.
28. Legiit.com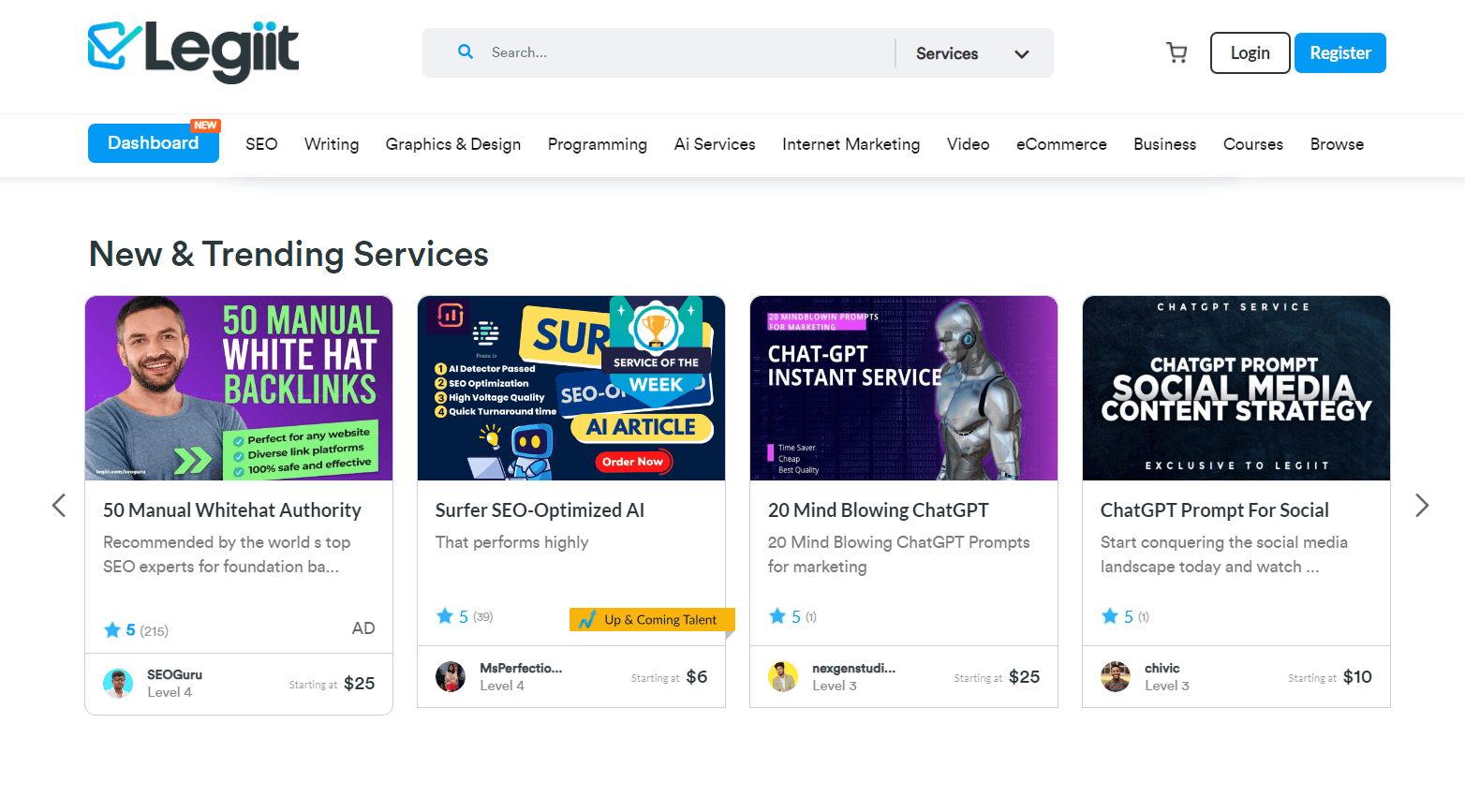 Legiit is a well-known website that provides a venue for independent contractors to sell their work.
Even though it is not a standard employment site, it may be a very useful resource for finding work that can be done from home.
This is particularly true for creative professionals such as graphic designers, authors, and marketers.
29. Freelancer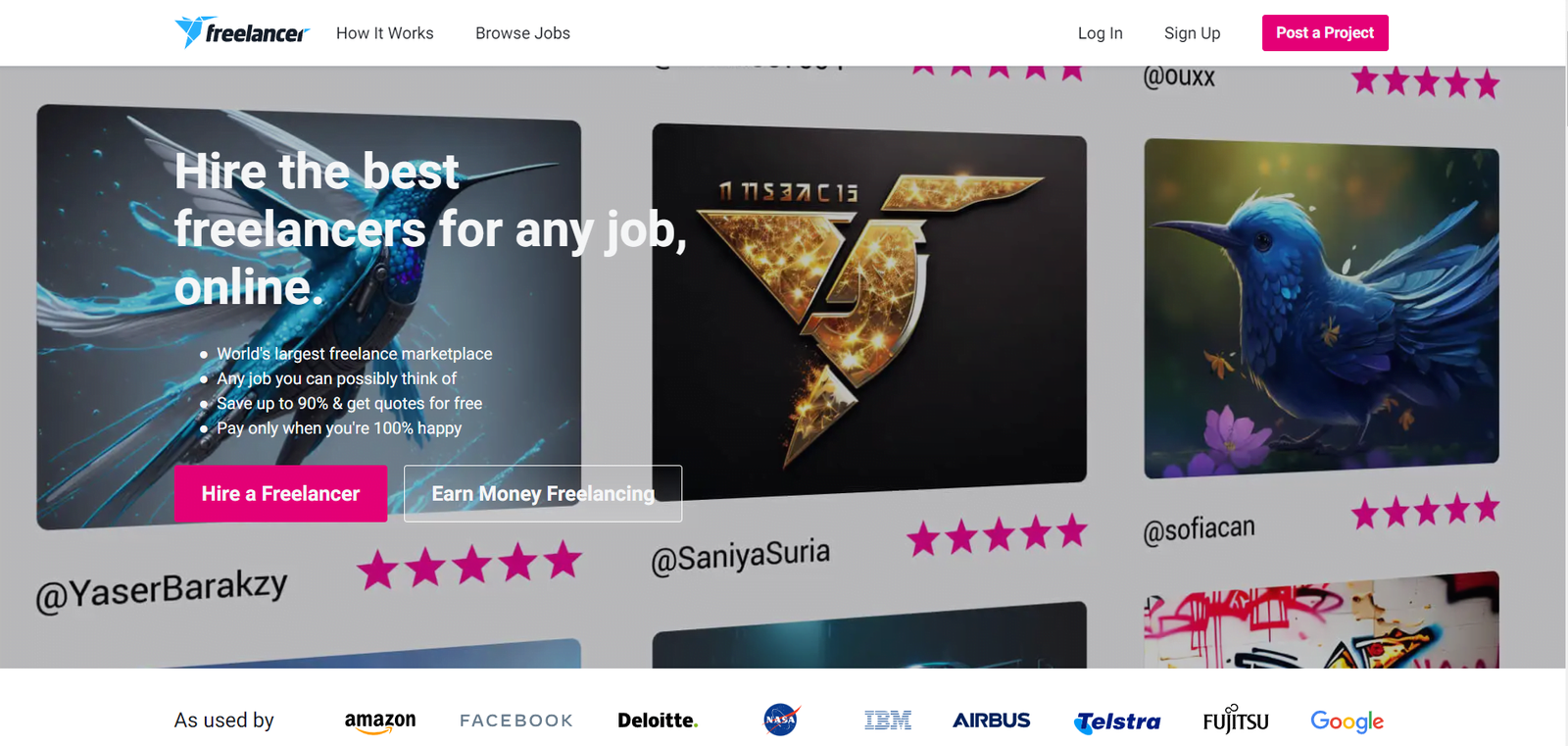 Freelancer is a platform for creative freelancers looking for project-based work. It's a popular site, with a vast array of job opportunities.
30. Crossover.com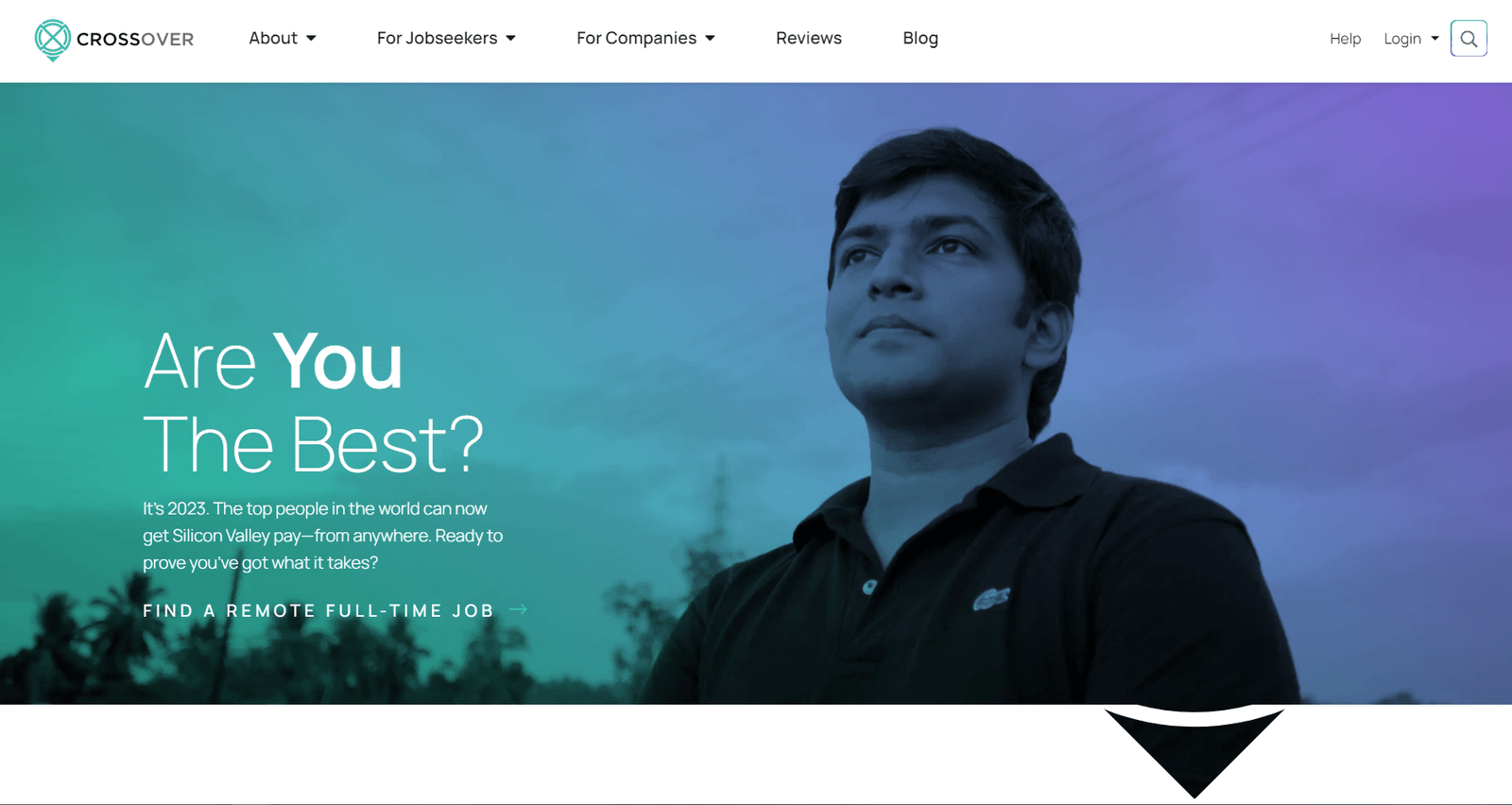 Crossover is known for offering high-paying, full-time, long-term remote jobs in the tech industry. If you're a tech professional looking for a high-paying remote job, Crossover could be an excellent choice.
31. RemoteinEurope.com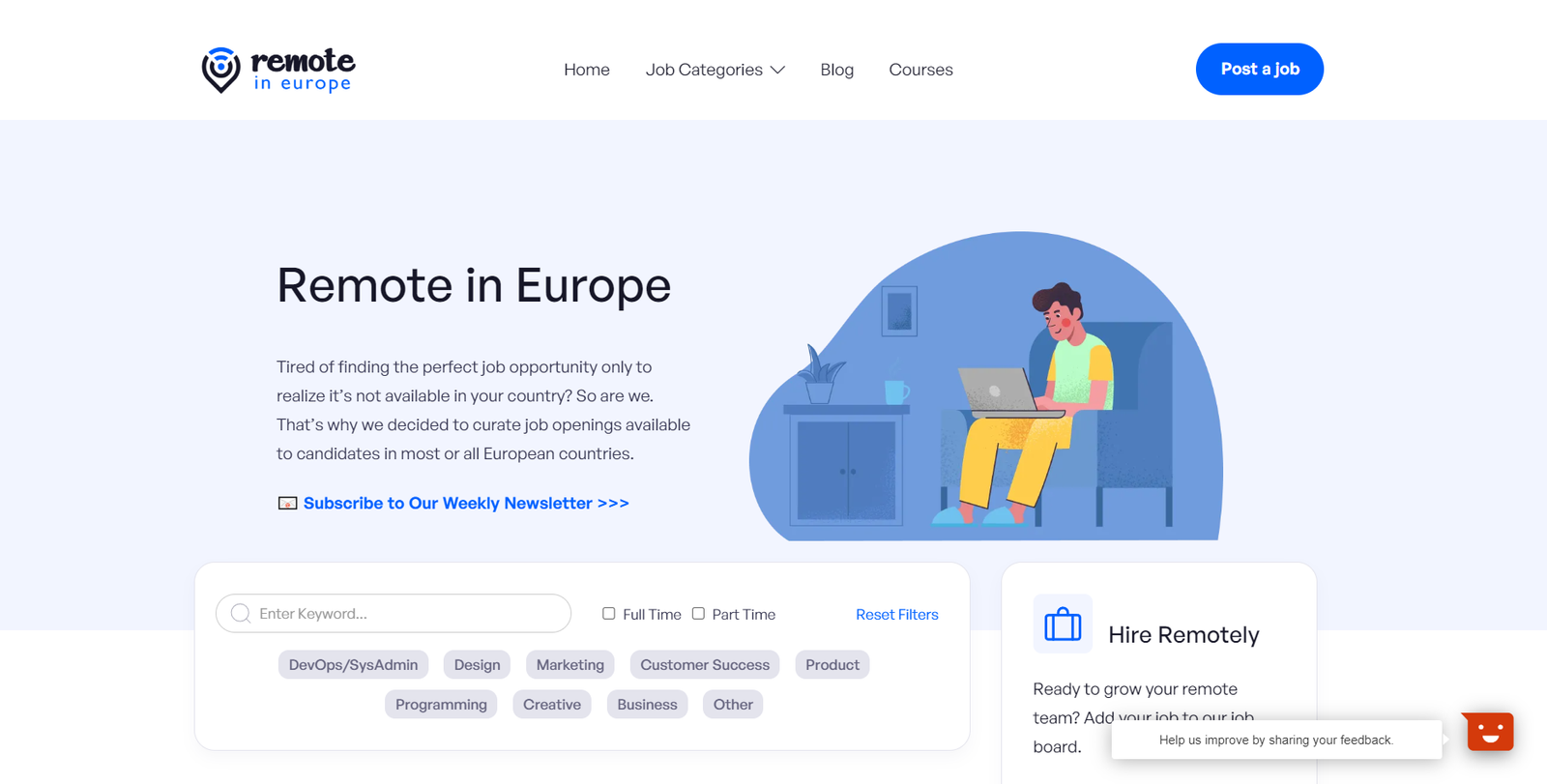 RemoteinEurope.com is a useful site for finding remote jobs specifically targeted at those based in Europe. It features a range of job listings from various fields, from tech to marketing. This makes it a go-to resource for European job seekers wanting to work from home. Since it's focused on a specific region, you can find opportunities tailored to your time zone and location. But, like all job sites, competition is high, so remember to make your application impressive!
32. DailyRemote.com
DailyRemote.com is a handy website for finding remote jobs. As the name suggests, new remote job listings are posted daily across a variety of fields like tech, sales, customer service, and more. This keeps the opportunities fresh and wide-ranging. Remember, just like other popular sites, competition can be tough, so it's important to make your application unique and eye-catching!
33. Jobgether.com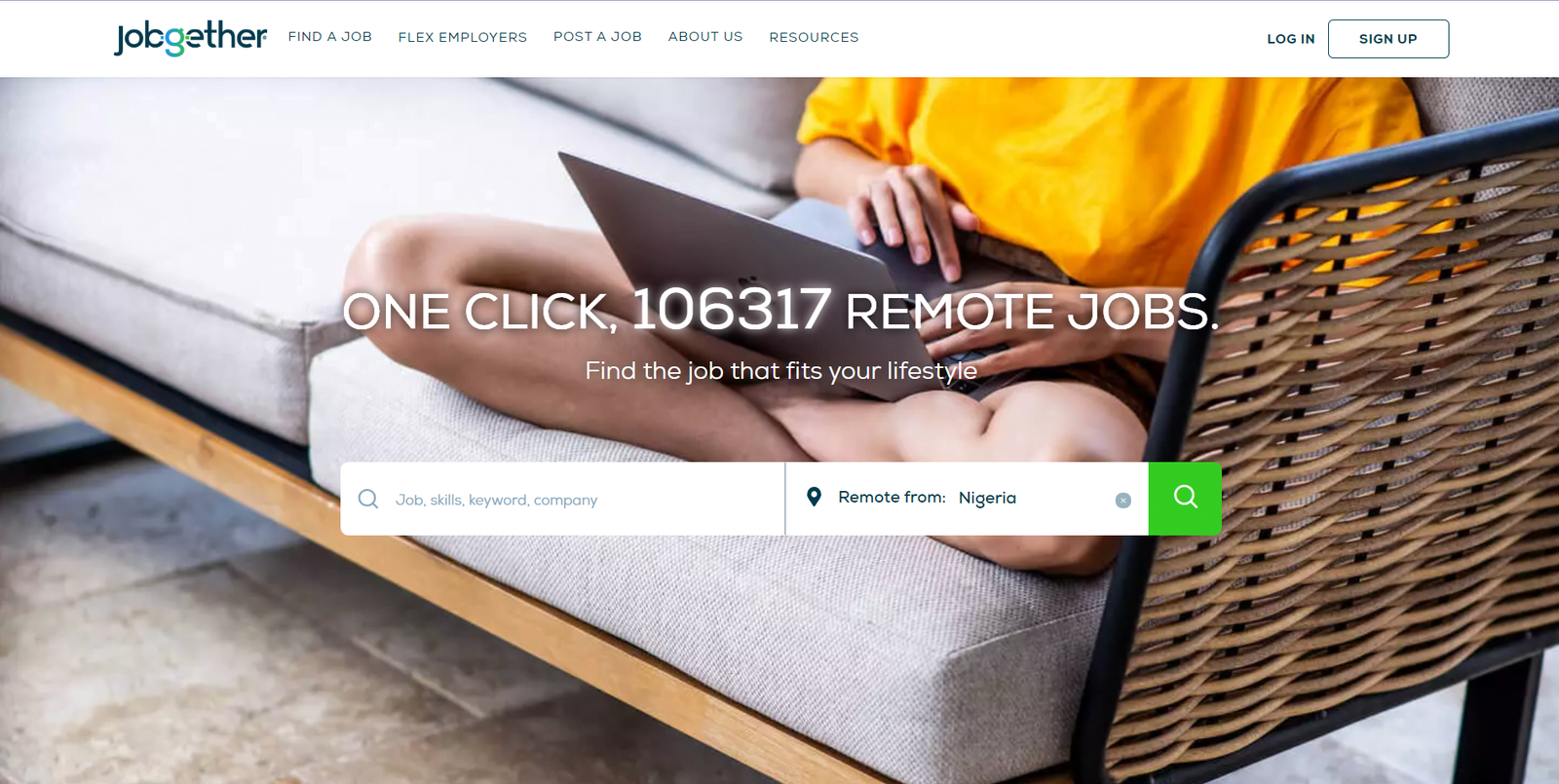 Jobgether.com is a unique platform that caters to those looking for remote-friendly employers. What sets it apart is that it provides in-depth information about companies and their approach to flexible working environments. It's more than just a job listing site; it's a place where you can really get to know the companies before you apply. You can explore company pages, learn about their work culture, and check out their latest remote job offers. This makes it easier to find a job that not only matches your skills but also your work-style preferences.
34. Turing.com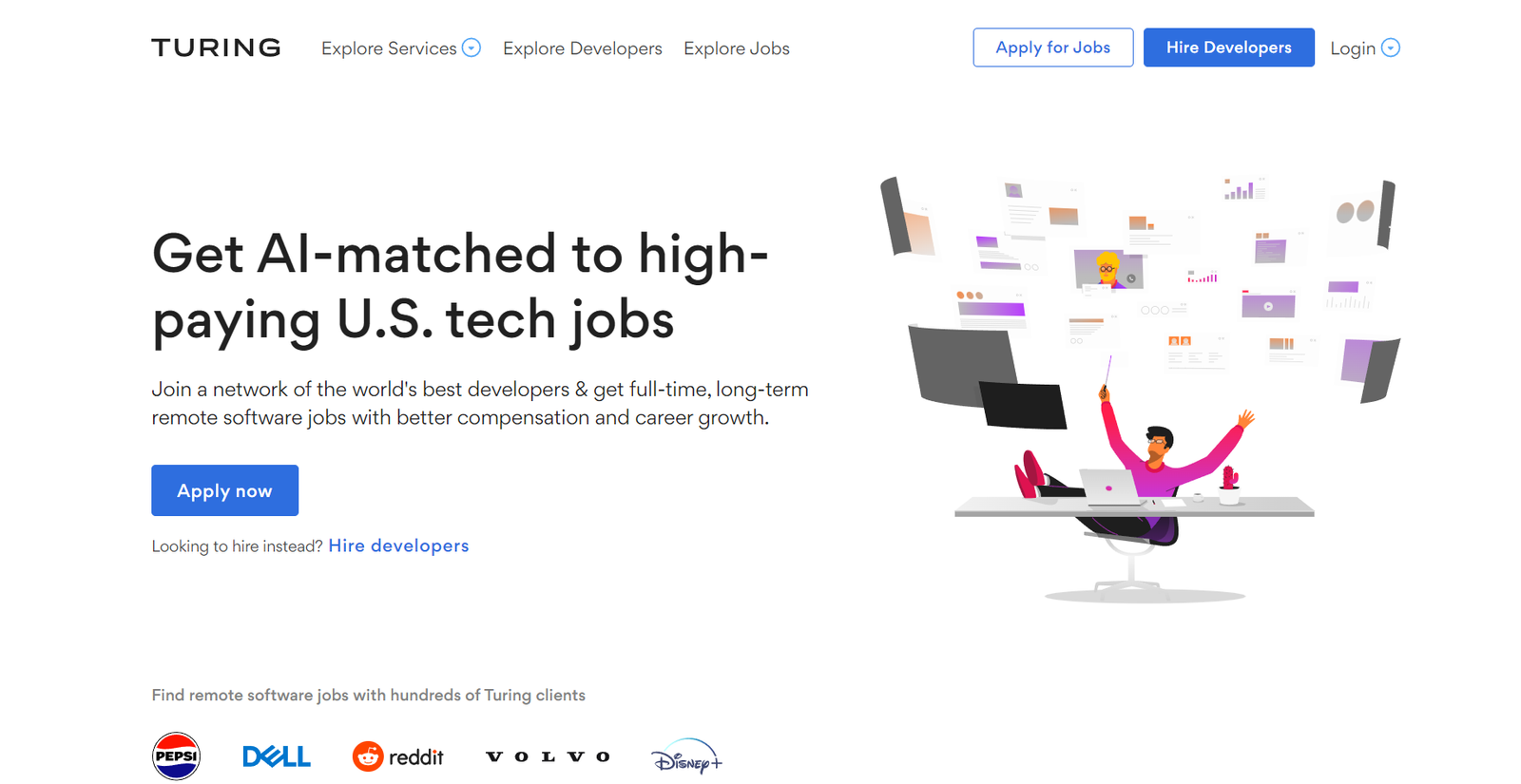 Turing.com is a superb site for software engineers to find remote jobs. They connect talented tech professionals with top companies for long-term, work-from-home roles. Turing.com vets both companies and job seekers to ensure a good match. Since it's specialized in tech, competition can be high. So, having a strong application highlighting your tech skills is key!
35. GrowRemote.ie
GrowRemote.ie is an aggregator that gathers job advertisements for working remotely from several online websites. It divides employment opportunities into a variety of sectors, such as programming, design, copywriting, customer support, and others. GrowRemote.ie makes it simple to investigate a diverse range of work-from-home options by centralizing all of the relevant ads in a single location.
Wrapping Up – Best Remote Jobs Websites
Each of these platforms provides a unique set of opportunities and resources, offering you a diverse range of options in your remote job search. It's important to explore each one to understand which suits your career goals and personal work preferences best. Happy hunting!
---
Consider reading: Complete Guide How to Become a Digital Nomad in 2023
---
FAQs
Is it safe to apply for jobs on these websites?
Yes, the websites mentioned have a good reputation for providing legitimate job opportunities.
Do I need to pay to access these websites?
While some websites like FlexJobs require a subscription, others like WeWorkRemotely, Remote.co, Upwork, and Freelancer are free to use but may have premium features at a cost.
How do I know if a remote job is legitimate?
Look for clear job descriptions, professional communication from the employer, and do your research about the company. If a job offer sounds too good to be true, it probably is.
Can I negotiate my salary on these platforms?
Yes, on platforms like Upwork and Freelancer, you can set your rates and negotiate terms with potential clients.
Are these websites suitable for beginners?
Yes, these websites offer opportunities for various skill levels, from beginners to experienced professionals.
What are the benefits of using websites for finding remote jobs online?
Websites dedicated to remote jobs provide a curated selection of remote and flexible job opportunities, eliminating the need to sift through traditional job listings that may not cater to remote work.
How can I identify a reliable remote job website?
Reliable remote job sites usually have a solid reputation, offer detailed job descriptions, provide company information, and ensure jobs are vetted to avoid scams. They often offer additional resources like blog articles, webinars, or career coaching.
Are paid remote job websites better than free ones?
Not necessarily. While some paid sites offer benefits like personalized assistance or a more curated selection of jobs, many free websites offer a vast number of quality remote job listings. It depends on your individual needs and resources.
Can I find all types of jobs on these remote job websites?
Most remote job websites cover a broad range of industries, but some cater more to specific niches like tech, digital marketing, or writing. It's worth exploring multiple sites to get a comprehensive view of the available remote job market.
Is it possible to find full-time remote jobs on these websites?
Absolutely! While the flexibility of remote work can lend itself to part-time or freelance roles, there are plenty of full-time remote positions listed on these websites.
How do I increase my chances of getting a remote job?
Having a solid resume, highlighting relevant skills, and crafting a compelling cover letter are key. It's also crucial to showcase your ability to work independently and communicate effectively, as these are vital skills for remote work.
Final Thoughts and Recommendation
In the age of remote work, finding the right platform to discover job opportunities can make all the difference. From generalist job platforms like LinkedIn and Indeed to niche sites dedicated solely to remote work like FlexJobs and Remote.co, there is a wealth of resources at your disposal.
Navigating these platforms with an understanding of what they offer and how they can serve your career goals will make your remote job search not only more manageable but also more successful.
See what others are reading aside the best Remote Jobs Website: