The Niger Delta University Direct Entry Form is your gateway to a promising academic journey in one of Nigeria's leading institutions.
Tailored for aspiring students with prior qualifications, this application process offers a unique opportunity to join NDU's distinguished community of scholars and achieve your educational aspirations.
We will explore the essential details and requirements for the NDU Direct Entry Form, guiding you towards a seamless application and a future filled with academic excellence.
Must Read: List of All Schools whose Direct Entry Form is currently on Sale!
What is Direct Entry?
Direct Entry" is a term commonly used in education to describe a process by which students can gain admission into a specific academic program or level without having to go through the traditional prerequisites or lower-level courses.
Direct Entry, often abbreviated as DE, is an admission pathway used in educational systems, primarily in universities and colleges.
It provides an alternative route for individuals to gain admission into higher education institutions, typically at an advanced level, bypassing the traditional entry through a secondary school's final examination or equivalent.
Direct Entry is designed for candidates who have completed specific qualifications beyond the standard high school or secondary education level. These qualifications may include advanced diplomas, associate degrees, or other recognized certifications.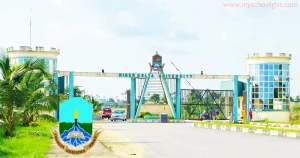 Niger Delta University (NDU) Direct Entry Form refers to an application form that prospective students interested in gaining admission into Niger Delta University through the Direct Entry admission process need to complete and submit.
Direct Entry is an alternative way of gaining admission into Niger Delta Universities for candidates who already possess a higher education qualification, such as a National Diploma (ND), NCE, IJMB, or other equivalent qualifications.
The NDU Direct Entry Form typically includes personal information, educational history, and other required details. It's an essential step in the application process for individuals who meet the criteria for direct entry admission to Niger Delta University.
Need help registering for the NDU Direct Entry Form Click the button below!
Eligibility Requirement for NDU Direct Entry Form
The eligibility requirements for the NDU (Niger Delta University) Direct Entry form vary depending on the specific program and admission criteria set by the university. However, there are some general requirements that applicants must meet in order to be eligible for the NDU Direct Entry form.
1. Educational Qualifications: Applicants must possess a minimum of two advanced level passes (or its equivalent) in relevant subjects. These advanced level passes should be from recognized institutions or examination bodies such as the West African Examination Council (WAEC), National Examination Council (NECO), or Joint Admissions and Matriculation Board (JAMB).
2. Direct Entry Screening: Candidates are required to participate in the NDU Direct Entry screening exercise. This screening process is conducted by the university to assess the academic qualifications and suitability of applicants for admission into their chosen programs. The screening may involve written tests, interviews, or other assessment methods.
3. JAMB Direct Entry Registration: Applicants must have completed the JAMB Direct Entry registration process. This involves obtaining the JAMB Direct Entry form, filling it out accurately, and submitting it within the specified deadline. The JAMB Direct Entry form serves as a prerequisite for applying to universities and other tertiary institutions in Nigeria.
4. Minimum Grade Point Average (GPA): Candidates must have a minimum Grade Point Average as specified by the university for their chosen program. The GPA requirement may vary depending on the competitiveness of the program and the number of available slots.
5. Relevant Subjects: Applicants must have studied relevant subjects at the advanced level or its equivalent. The specific subjects required may vary depending on the program of interest. It is important for candidates to carefully review the admission requirements for their chosen program to ensure they meet all subject prerequisites.
Understanding the Application Process
It's vital to get a clear grasp of the admission procedure when you're looking to join a university or educational establishment.
Begin by delving into the university of your choice, exploring their courses, and identifying their entry prerequisites.
Pinpoint the exact program or course that resonates with your academic aspirations and future career path.
Making sure your selection is in line with your objectives is key.
Purchasing the Direct Entry Form
Purchasing a Direct Entry Form for admission to a university in Nigeria typically involves visiting the university's website, creating an account, logging in, navigating to the Direct Entry application portal, filling out the Direct Entry Form, and uploading supporting documents.
Submission of the Form
Make sure you have accurately and completely filled out all the required information on the application form, including personal details, academic history, and program choices, before being sent through the JAMB portal.
How to Apply for NDU Direct Entry Screening Form
To apply for the Niger Delta University (NDU) Direct Entry Screening Form, you need to follow the steps below:
Step 1: Visit the NDU Website
Go to the official Niger Delta University website. Look for the "Admissions" or "Admissions Portal" section, which usually contains information on application procedures.
Step 2: Create an Account
Create an account on the NDU portal if you haven't already. You'll need a valid email address and phone number for this.
Step 3: Log In
Log in to your newly created account.
Step 4: Fill the Application Form
Once logged in, you should find the NDU Direct Entry Screening Form. Fill out the form with accurate and complete information, including your personal details, educational history, and any other required information.
Step 5: Upload Documents
You will likely be required to upload scanned copies of your credentials, such as your O'level result, ND, NCE, or any other relevant qualifications, as well as your passport photograph.
Step 6: Pay the Application Fee
After completing the form and uploading the necessary documents, you'll need to pay the required application fee. Payment methods and details should be provided on the application portal. Make sure to follow the payment instructions carefully.
Additional Tips:
Review your application thoroughly to ensure all information is accurate before submitting.
Print out the acknowledgment slip or confirmation page after successfully completing your application. This will serve as proof of application.
Keep a record of your application details and payment receipt.
Important dates and deadlines for NDU Direct Entry Form
To ensure a smooth application process, it's crucial to be aware of the important dates and deadlines for the Nasarawa State University (NDU)  direct entry form.
Missing these deadlines can result in your application being disqualified or delayed, so mark these dates on your calendar and plan accordingly. 
Here are some key dates to remember:
1. Opening of Online Registration:
The online registration portal for the NDU Direct Entry Form typically opens in the month of June.
It's important to keep an eye on the official NDU website or admission portal for the exact opening date.
2. Closing of Online Registration:
The closing date for online registration is usually a few weeks after the opening date.
It's advisable to complete your registration well before the deadline to avoid any last-minute technical glitches or issues.
 3. Document Verification Deadline:
After completing the online registration, there is a period allocated for document verification.
During this time, applicants are required to submit their original documents for verification at the designated verification centers.
The deadline for document verification is typically a few days after the closing of online registration.
4. Payment of Application Fees Deadline:
The application fee is an essential part of the NDU Direct Entry application process.
The deadline for payment of the application fees is usually stated on the official NDU website or admission portal. It's important to make the payment within the specified timeframe to avoid any complications.
5. Submission of the Completed Application Form Deadline:
After completing the online registration, document verification, and payment of application fees, applicants must submit their completed application forms.
The deadline for submission is typically a few days after the payment deadline.
It's crucial to double-check all the information provided in the application form before submission to ensure accuracy and completeness.
NDU Direct Entry Screening
Niger Delta University (NDU) is a state-owned university located in Wilberforce Island, Bayelsa State, Nigeria.
It was established in 2000 by the Bayelsa State Government to provide higher education opportunities for the people of the Niger Delta region. The university offers undergraduate and postgraduate programs across various fields of study.
Direct Entry screening is a process conducted by NDU to admit students into the university through the Direct Entry mode of entry.
Direct Entry is an admission process that allows candidates with advanced level qualifications, such as A-levels, National Diploma (ND), Higher National Diploma (HND), or equivalent, to gain direct admission into the second or third year of a degree program. The Direct Entry screening process typically involves the following steps:
1. Online Registration
2. Payment of Screening Fee
3. Document Verification
4. Screening Exercise
5. Admission List
NDU Direct Entry Form FAQs
Frequently Asked Questions (FAQs) about the Niger Delta University (NDU) Direct Entry Form:
1. What is the NDU Direct Entry Form?
The NDU Direct Entry Form is an application form for candidates who wish to gain admission into Niger Delta University through the Direct Entry admission process. It's an alternative route for candidates with higher education qualifications.
2. Who is eligible to apply through Direct Entry?
Candidates with qualifications like National Diploma (ND), NCE, IJMB, and HND are typically eligible to apply through Direct Entry. Specific eligibility criteria may vary by year, so it's essential to check the official NDU website for the latest requirements.
3. Where can I get the NDU Direct Entry Form?
The NDU Direct Entry Form is usually available on the official NDU website and may be accessible through the university's admission portal.
4. What documents are required for the application?
Commonly required documents include your O'level result, ND, NCE, or equivalent qualifications, passport photographs, and other documents specified in the application guidelines.
5. How do I pay the application fee?
Details about the application fee and payment methods are usually provided on the application portal. Follow the provided instructions for making payments.
6. What is the application deadline for NDU Direct Entry Form?
Application deadlines can change from year to year, so it's crucial to check the NDU website or contact the admissions office for the current deadline.
7. Can I apply if I didn't choose NDU as my first choice during JAMB registration?
The policy regarding the choice of institution may vary. Check the latest admission guidelines for information on whether NDU accepts candidates who didn't choose the university as their first choice.
8. How do I track my application status?
You can usually check your application status by logging into your applicant portal on the NDU website.
9. Is there an entrance exam for Direct Entry applicants?
The NDU Direct Entry admission process may include an entrance exam or screening exercise. Check the specific requirements for the current year.
10. How will I know if I've been admitted?
The university will typically publish the list of admitted candidates on its official website and may send admission letters via email or regular mail.
Tips for a successful NDU Direct Entry Form application
To have a successful NIGER DELTA UNIVERSITY (NDU) Direct Entry Form application, it is important to follow certain tips and guidelines. Here are some key points to consider:
1. Eligibility Criteria: Before applying, ensure that you meet the eligibility criteria set by NDU for direct entry admission. This may include having the required educational qualifications, such as a minimum of two A-level passes or its equivalent.
2. Research the Program: Familiarize yourself with the program you wish to apply for at NDU. Understand the admission requirements, course structure, and any specific prerequisites for the program. This will help you tailor your application accordingly.
3. Gather Required Documents: Collect all the necessary documents needed for your application. These may include academic transcripts, certificates, birth certificate, passport photographs, and any other supporting documents required by NDU. Ensure that these documents are properly certified and readily available.
4. Fill out the Application Form: Carefully fill out the NDU Direct Entry Form with accurate and up-to-date information. Double-check all the details before submitting to avoid any errors or discrepancies.
5. Pay Attention to Deadlines: Be mindful of the application deadlines set by NDU. Submit your application well before the deadline to avoid any last-minute rush or potential disqualification.
6. Write a Convincing Personal Statement: Many universities require applicants to submit a personal statement or essay explaining their motivation and suitability for the chosen program. Take time to craft a well-written and persuasive personal statement that highlights your strengths, experiences, and future goals.
7. Obtain Professional References: NDU require letters of recommendation from academic or professional referees. Choose individuals who can provide strong references that showcase your abilities and potential for success in higher education.
Need assistance with NDU Direct Entry Registration?
Navigating NDU Entry Direct Entry form process can be complex and overwhelming.
Why struggle on your own when you can have an expert by your side? At SchoolNews.info, we specialize in helping students register with ease, ensuring a seamless and error-free experience.
Don't leave your registration to chance; trust the experts! Let us handle the intricacies so you can focus on your academic journey.
👉 Click here to get started with our trusted registration service!
Wrapping Up
The Niger Delta University Direct Entry Form serves as a pivotal gateway for aspiring students seeking higher education in this esteemed institution.
It offers a unique opportunity to further one's academic journey, and its accessibility and application process are crucial steps toward realizing educational dreams.
As applicants prepare to embark on their academic pursuits at NDU, this form stands as a testament to their determination and ambition.
We encourage all eligible candidates to seize this opportunity, ensuring a bright and promising future in the heart of the Niger Delta region.