BECOME AN ONLINE TEACHER AND SHARE YOUR KNOWLEDGE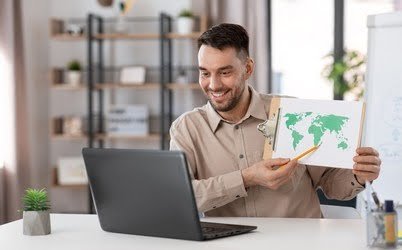 We are in search of dedicated educators who are passionate about imparting knowledge and guiding our global clientele toward academic excellence.
While we don't set hard prerequisites for entry, we encourage you to familiarize yourself with our basic requirements to ensure you are best suited for the role.
WHAT WE OFFER:
1. COMPETITIVE SALARY:
Your expertise and dedication are rewarded with a lucrative pay package. Depending on your skills and experience, you have the potential to earn between US $18,000 to $33,750 or more annually. As you enhance your skills and gain more experience, your earning potential will only increase.
2. ASSURED ENGAGEMENT:
We value your time and commitment. Thus, we guarantee a minimum workload of US $1500 per month, ensuring you always have opportunities to teach and earn.
ONLINE JOB OPPORTUNITIES:
Discover a realm of part-time and full-time work-from-home job opportunities available globally. All you require is a serene environment to conduct your teaching sessions, ensuring an effective and uninterrupted learning experience for your students.
COMPENSATION DETAILS:
You might be keen to understand the potential earnings from online teaching. The remuneration is primarily based on the number of hours you commit. The flexibility of location allows you to teach from the comfort of your home or any other conducive space of your choosing.
Your location can influence the demand for lessons and, consequently, how much you can earn. This offers a dual advantage: teach at your convenience and enjoy the liberty to work from any location.
| | | |
| --- | --- | --- |
| LEVEL | PRICE PER MINUTES | ESTIMATED EARNINGS PER SESSION |
| Beginner | US $0.40 | US $6.00, if you teach 15 Minutes Per Session. |
| Intermediate | US $0.50 | US $7.50, if you teach 15 Minutes Per Session. |
| Professional | US $0.65 | US $9.75, if you teach 15 Minutes Per Session. |
| Experts | US $0.75 | US $11.25, if you teach 15 Minutes Per Session. |
| | | |
| --- | --- | --- |
| RATE PER SESSION | TEACHING SESSION PER DAY | EXPECTED EARNING |
| $6.00 | If you teach 10 Sessions/Day | $60.00 |
| $7.50 | If you teach 10 Sessions/Day | $75.00 |
| $9.75 | If you teach 10 Sessions/Day |  $97.50 |
| $11.25 | If you teach 10 Sessions/Day | $112.50 |
ESTIMATING YOUR MONTHLY EARNINGS:
Using the provided example, let's break down how you can project your potential monthly income:
Starting Point:
Suppose you're just beginning your online teaching journey. According to the mentioned rate, you earn US $60 each day.
Working Days:
Assume you work for 25 days a month.
Monthly Earnings Calculation:
Your projected monthly income would be:
$60 (daily earnings) x 25 (number of working days) = $1500.
Therefore, as a novice online tutor, you could potentially earn up to $1500 monthly based on the above model.
---
Remember, this is just a basic estimate. Your actual earnings can vary based on numerous factors such as your expertise, student reviews, and the actual number of hours you dedicate.
Engage in this exciting opportunity and watch your earnings grow as you gain more experience and expand your student base.
EARNING SIMULATOR:
Want to estimate your potential earnings with us? We've got you covered. With our specially designed online earning simulator, you can get a rough idea of how much you might earn based on your skills and working hours. Dive in and Simulate Your Earnings Now!
REQUIREMENTS:
Basic Internet Knowledge: Familiarity with Internet browsing, emailing, and other basic online tasks.
Proficiency in English: This includes reading, writing, and understanding English at a basic level.
Typing Speed: A minimum typing speed of 30-50 words per minute is required.
Technical Setup: A reliable computer connected to high-speed internet.
ELIGIBILITY:
Age Requirement: Applicants must be at least 16 years of age or older.
Educational Qualification: Possession of a Secondary or High School Diploma is a must.
---
Embark on this opportunity and unlock a world of potential earnings right from the comfort of your home. We're excited to have you on board!
JOINING FEES:
We believe in transparency and trust. That's why we want you to know upfront: Registration is absolutely FREE! We don't hide any fees or costs, neither before nor after you join us.
Furthermore, we firmly stand by the principle that you shouldn't have to invest to earn, so rest assured, we will never request any form of investment from you at any point in your journey with us.
---
Take the leap with confidence, knowing you're joining a team that values transparency and your trust.
ONLINE TEACHING DEMO WORK:
Dive into our meticulously designed online tutorial, crafted by the dedicated WORK FROM HOME Team, to guide potential online educators like you. Our demo work is not just a run-of-the-mill introduction but an immersive experience.
By engaging with our demo work, you'll be privy to the foundational aspects of online teaching, assimilating vital tips, and acquiring tried-and-true strategies to ensure you thrive in this dynamic environment.
Harness the power of our online teaching demo work and embark on an enriching and rewarding journey today!
PAYMENT TERMS AND OPTIONS:
Our vision of online teaching transcends beyond mere sessions. We envision our educators as holistic solution providers catering to every nuanced learning need of the student. This entails understanding each student's unique requirements, crafting tailor-made learning plans, curating pertinent content for sessions, administering tests and assignments, meticulously evaluating them to gauge student progression, and offering consistent feedback to both students and parents.
Compensation for your dedicated service is a matter of paramount importance to us. We've streamlined payment solutions to ensure our freelancers have a hassle-free experience.
For a comprehensive overview of our varied payment options, please refer to our detailed list available here.