Embarking on the journey to higher education at Michael Okpara University of Agriculture Umudike (MOUAU) is a significant endeavor, and the first crucial step in this pursuit is the completion of the MOUAU Post-UTME Screening Form.
Aspiring students are presented with a gateway to a world-renowned institution known for its commitment to excellence in agriculture and related fields.
The screening process not only evaluates academic qualifications but also provides a platform for candidates to showcase their potential to thrive in the academic and research-rich environment of MOUAU.
This introductory paragraph serves as an invitation to prospective students to engage with the transformative opportunities that MOUAU offers, emphasizing the importance of the Post-UTME Screening Form as the key to unlocking a future of academic success and innovation.
Key Takeaways:
The MOUAU Post-UTME is a computer-based test critical for university admission.
Applicants must prepare all necessary documents for the screening process.
The form can be acquired through the MOUAU e-portal or designated banks with an RRR number.
After the screening, check your results and admission status on the MOUAU and JAMB portals.
Successful candidates must accept admission, pay fees, and complete registration.
Understanding Post UTME
Post-UTME is a secondary screening process conducted by Nigerian universities, including MOUAU, to assess candidates after the UTME.
It serves as a vital checkpoint in the university admission journey, evaluating not only academic knowledge but also the skills and understanding necessary for tertiary education.
Also read: What is Post UTME? Definition, Process, History & FAQs
MOUAU Post-UTME Screening Form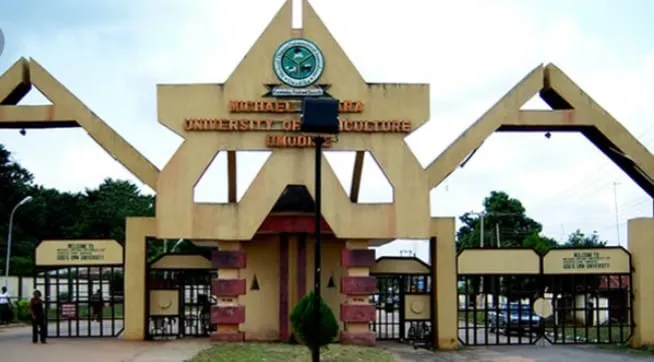 Need help registering for MOUAU Post UTME? Click the button below!
Important Dates and Deadlines For MOUAU Post-UTME Form
Stay informed about crucial dates for the MOUAU Post-UTME form to ensure a smooth application process.
Keep an eye on the official MOUAU website for updates on opening and closing dates (The online registration portal typically opens in the month of June and closes a few weeks after the opening date), document verification, application fees payment, and submission deadlines.
Last-minute glitches can be avoided by planning according to the specified timelines.
If there is a slight increase in the form's price, it's a good practice to always read the application guidelines thoroughly to avoid any surprises.
However, it's essential to keep an eye on the official MOUAU website or join our WhatsApp channel to stay informed.
Join Now: Click here to join the SchoolNews WhatsApp Channel
MOUAU Post-UTME Eligibility Criteria
Before initiating the application process, ensure you meet MOUAU's eligibility criteria, including the UTME score requirement (usually a minimum of 140), age limit (at least 16 years old), and alignment of your course choices with your O-level subjects.
This step is crucial to ensure that only deserving candidates are considered for admission.
Prospective students who fulfill the aforementioned conditions are recommended to visit the official portal of the university, which can be accessed at portal.mouau.edu.ng/screening.
Application Process
Follow the outlined steps meticulously to enhance your chances of success in applying for the MOUAU Post-UTME Form.
From obtaining your RRR number to paying the screening fee, filling out the application form, and downloading the acknowledgment slip, each step is essential for a seamless application process.
Scroll down as we delve into the details of each step for the application process:
GET YOUR RRR NUMBER
First things first, you'll need a Remita Retrieval Reference (RRR) number. It's simple: go to the MOUAU portal at portal.mouau.edu.ng/screening and use your JAMB registration number. Choose MOUAU as your institution while you're there.
PAY THE SCREENING FEE
Next up, you'll pay a ₦2,000 screening fee. You can pay this easily online, and you can use any bank that you like.
FILL IN YOUR APPLICATION
Fill out the application form carefully. Every field is important! Don't forget to upload a recent photo of yourself.
DOWNLOAD YOUR ACKNOWLEDGEMENT SLIP
After you've filled everything out, download the acknowledgment slip. You'll need this for the physical screening process later on.
Where to Purchase MOUAU Post-UTME Form
The MOUAU Post-UTME form can be purchased on the official MOUAU e-portal or at any major bank using a Remita Retrieval Reference (RRR) number.
Opt for the method that suits you best, whether online payment or in-person at a bank, ensuring to keep a record of your transaction for future reference.
Cost of MOUAU Post UTME Form
While the cost of the MOUAU Post-UTME Screening Form can vary yearly, the last update priced it at ₦2,000 (excluding bank charges).
Confirm the current price on the official MOUAU portal or announcements.
Required Documents for MOUAU Post-UTME Screening
Prepare all necessary documents, including JAMB UTME result slip, SSCE results, birth certificate, local government identification, passport photographs, and JAMB Direct Entry slip which contains details about your previous qualifications and the entry mode into the university (if applicable).
Ensure these documents are clear, organized, and readily available for a hassle-free application process.
Common Mistakes to Avoid
Be cautious about misspelled names, providing an incorrect email address, mismatched details, poor quality scans, incomplete form submission, delayed application, and ignoring instructions.
Attention to detail and adherence to instructions significantly impact the success of your application.
WHAT HAPPENS AFTER MOUAU SCREENING?
After completing the MOUAU post-UTME screening, anticipate the release of results, access your scores through the official portal, be aware of departmental cut-off marks, and proceed to the subsequent steps such as admission acceptance (Applicants often accept or decline the admission offer on the JAMB CAPS portal by clicking 'Accept' or 'Decline.'), payment of acceptance fee, clearance and registration, school fees payment, and orientation before resumption.
In conclusion, the MOUAU Post-UTME screening process is systematic, requiring meticulous attention to detail.
By following the outlined steps and avoiding common mistakes, you enhance your chances of a successful application and admission into Michael Okpara University of Agriculture Umudike (MOUAU).
See Also: How to Gain admission into Michael Okpara University of Agriculture Umudike via Direct Entry
MOUAU POST UTME SCREENING FORM FAQS
We've put together a helpful list of the most common questions and straightforward answers to guide you through the MOUAU Post UTME screening process with ease.
WHAT IS THE OFFICIAL WEBSITE OF MOUAU?
The official website for Michael Okpara University of Agriculture Umudike is www.mouau.edu.ng. Always ensure you're visiting the official site to avoid scams or misinformation.
HOW MUCH IS THE MOUAU POST UTME SCREENING FORM?
While the price can vary from year to year, you should check the university's official portal or announcements for the current cost. It's also essential to pay only through the official payment channels provided by the university.
HOW DOES MOUAU CONDUCT ITS POST UTME EXAM?
MOUAU conducts its Post UTME exam as a Computer-Based Test (CBT) focusing on subjects relevant to the applicant's chosen course. The university holds the exam on campus or at approved centers, and they consider it a critical part of the admission process.
CAN I CHANGE MY COURSE OR DETAILS AFTER SUBMITTING THE FORM?
Most universities allow for corrections within a specific period after form submission. The institution may require you to pay a correction fee. It's best to contact the university's admission office or check their portal for specific guidelines.
I DIDN'T SCORE VERY HIGH IN THE POST-UTME. CAN I STILL GET ADMISSION?
Admission depends on a combination of your JAMB score, Post UTME score, and the departmental cut-off mark. While a high Post UTME score is advantageous, other factors like the number of applicants for a course, the general performance that year, etc., can influence admission chances.
WHEN WILL THE ADMISSIONS LIST BE OUT?
The admissions list release can vary, but it's usually a few weeks to months after the post-UTME screening. Keep an eye on the university's official portal and the JAMB CAPS portal for updates.
WHAT IF I MISS THE SCREENING DATE?
It's crucial not to miss the screening date, as it might jeopardize your admission chances. However, if you have a valid reason for missing it, you should contact the university's admission office immediately for guidance.
CAN DIRECT ENTRY (DE) CANDIDATES ALSO APPLY FOR THE POST UTME?
Direct Entry candidates usually have a different admission process. You should refer to the university's guidelines specific to DE candidates.
HOW DO I PREPARE FOR THE SCREENING EXERCISE?
Candidates prepare by revising relevant subjects, going through past questions, ensuring they have all necessary documents, and mentally preparing for the exercise
I AM HAVING ISSUES LOGGING INTO THE PORTAL. WHAT SHOULD I DO?
If you encounter technical issues, it's advisable to contact the university's ICT or support unit. Ensure you're using the correct URL, and your login details are accurate.
GET HELP WITH YOUR MOUAU POST-UTME REGISTRATION!
Feeling lost in the maze of MOUAU post-UTME registration? You're not alone, and there's no need to navigate it by yourself.
At SchoolNews.info, we're here to simplify the process for you.
Our team is dedicated to providing personalized assistance, making sure your registration is smooth and free from mistakes.
Why risk any errors? Leave it to the professionals!
We'll manage the details, allowing you to concentrate on preparing for university life.
👉 Click here to get started with our trusted registration service!
Wrapping Up
In conclusion, as you navigate the path to securing admission at Michael Okpara University of Agriculture Umudike (MOUAU), completing the Post-UTME Screening Form stands as a pivotal moment in your academic journey.
This process not only opens the door to a world-class institution but also signifies your readiness to embrace the challenges and opportunities that await.
Remember, success begins with preparation, and by meticulously adhering to the guidelines, deadlines, and requirements outlined in the MOUAU Post-UTME Screening Form, you are not just applying for admission – you are taking the first bold step towards a future defined by knowledge, innovation, and personal growth.
We wish you the best as you embark on this exciting chapter with MOUAU.